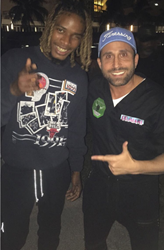 Dr. Miami is currently favored for the Snapchat of the Year Award, over DJ Khalid and Kylie Jenner.
Bal Harbour, FL (PRWEB) February 01, 2016
With 600,000 daily snapchat viewers, multiple appearances on The Today Show, a best-selling book, and a slew of celebrity plastic surgeries, South Florida's Michael Salzhauer is known as the most famous plastic surgeon in the world!
Last year Michael Salzhauer, who is better known as "Dr. Miami" began releasing nearly-live videos of him performing plastic surgery via snapchat. The videos are raw and unedited, and give the public a birds-eye view of nose jobs, breast enhancements and reductions, liposuction, butt lifts, tummy tucks, and much more. The videos went viral and placed Dr. Miami as one of the most popular snapchat accounts in the world, sometimes receiving over one million views per day!
His social media exposure only added to nearly two decades of his existing fame as a plastic surgeon. His book, My Beautiful Mommy, landed him on several national talk shows and major publications, and his dozens of celebrity clients from the Black Ink Crew, Bad Girls Club, and Teen Mom, including the highly publicized work on Farrah Abraham and Kailyn Lowry, drew the attention of TMZ, CNN, The New York Times, Women's Health, People, Star, OK! Magazine and an appearance on MTV's True Life.
All of this attention has earned Dr. Miami a nomination for "The Snapchat of the Year" at this year's Shorty Awards. The Shorty Awards is the largest award ceremony that honors the best in social media and draws the attention of major celebrities. Last year's award presenters included Wyclef Jean, Bill Nye, and Bella Thorne. The awards are given based on a public online voting system and Dr. Miami is currently favored in the running against DJ Khalid and Kylie Jenner.
The Shorty Awards will take place this April in New York City and fans can cast their vote via this link http://shortyawards.com/8th/therealdrmiami To learn more about Dr. Miami visit http://www.BalBody.com
###
http://BalBody.com
https://www.instagram.com/TheRealDrMiami
https://www.facebook.com/BalHarbourPlasticSurgery