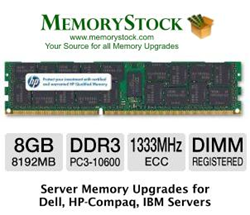 New DDR3 modules deliver more speed, more bandwidth, and lower voltage than DDR2 memory. Enhance server performance with low priced 8GB DDR3 ECC Reg memory
Stockton, CA (PRWEB) February 02, 2016
MemoryStock, the largest online source of RAM memory upgrades, today announced the availability of 8GB DDR3 1333MHz server memory upgrades at reduced prices. The 1333MHz 8GB RAM upgrade price from MemoryStock are the lowest price available in the memory market today. The DDR3 price reduction comes after all brands of server memory costs have been reduced throughout the store today.
8GB 1333MHz DDR3 RAM ECC registered memory, MemoyStock partnumber 857ms-857, is designed to enhance high-performance server environments and push performance limits. The new modules deliver speeds at 1333 MT/s, and allow servers to radically increase bandwidth to 13 GB/s; this has the potential to revolutionize the performance of any server, that benefits from fast access to large sets of data. DDR3 memory also delivers up to 40 percent better power efficiency than standard DDR2 memory.
MemoryStock's DDR3 server memory for Dell, HP-Compaq, IBM server's meets manufacturer's specifications with special attention to proper thermal specifications. The ECC registered DDR3 server memory comes in 4GB, 8GB, 16GB and 32GB memory modules, and 64GB kits, and is now available for purchase from http://www.memorystock.com.
http://www.memorystock.com/orderitem.asp?it=857ms-857
Key Features of DDR3 ECC Registered Memory:

Runs 30 percent faster than DDR2 technology, enabling servers to load applications faster and improve performance for memory-intensive applications
Increases memory bandwidth by more than 30 percent, allowing servers to handle more data at once
Reduces power consumption by up to 40 percent, increasing server power efficiency
Available in 4GB, 8GB, 16GB and 32GB modules with two-piece kits up to 64GB
All memory from MemoryStock's online memory store is backed by a lifetime warranty. For more information about MemoryStock DDR3 memory, visit http://www.memorystock.com/DDR3-Memory.htm
About MemoryStock
MemoryStock URL http://www.memorystock.com was established in 1999 to meet the growing needs of consumers searching for high quality memory solutions. MemoryStock's extensive network of contacts within the industry allows it to bring some of the best prices along with high quality memory.
Lifetime warranty on all memory products
High-quality, major brand memory products
Special discounts for schools & businesses