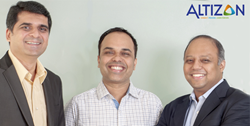 "This milestone and the trust of our investors validates the belief in the growth story of Altizon as a leading innovator in the Industrial IoT space. "
Pune, Maharashtra, India (PRWEB) February 02, 2016
Altizon Systems, the Internet of Things (IoT) platform innovator today announced it has closed a $4 million round of series A funding led by Wipro Ventures and supported by Lumis Partners and current investors, The Hive and Infuse Ventures.
Altizon has emerged as a leading partner for enterprises in an IoT driven world. Datonis™, the flagship platform of Altizon is the platform of choice for top enterprises in Manufacturing and Cleantech sectors for their IoT initiatives. Enterprises rely on Datonis™ for mission-critical applications around condition-based monitoring, predictive maintenance and machine learning.
The company plans to utilize the funds for scaling up its sales and marketing functions both in India and globally. Altizon's co-founder and CEO, Vinay Nathan says, "This milestone and the commitment from our investors validates the belief in the growth story of Altizon as a leading innovator in the Industrial IoT space.
With this development, we plan to take Altizon's value proposition globally and continue to invest in our innovation edge around the Datonis™ platform."The Series A funding builds on an exceptional year for Altizon, marked by strategic partnerships with industry leaders like Wipro Ltd. and Kepware to further its go-to-market initiatives. Also, Gartner, Inc. in its report –"The Gartner 2015 cool vendor report" -- identified Altizon as one of cool vendors in Embedded Software and Systems segment.
"We are seeing increasing adoption of IoT technologies across our customer base. The Altizon investment represents our commitment to investing in companies building disruptive technologies," said Biplab Adhya, Vice President and Co-Head, Wipro Ventures.
Rohit Bhayana, Managing Partner of Lumis Partners, who will be joining Altizon's Board stated, "Industrial IoT has a direct bearing on productivity, client satisfaction and market leadership and therefore, it's not another 'good to do', but a 'must have'. Altizon has the depth and agility that OEMs need in such a critical space and are delighted to partner with them in this journey".
About Altizon
Altizon is the world's first Industrial Internet Platform company focussed on making enterprises Internet of Things(IoT) ready. Altizon's flagship product, the Datonis™ IoT Platform, helps enterprises build IoT products and solutions in weeks by providing device connectivity kits, a device management layer, a highly-scalable, real-time, big-data analytics engine and alerting and monitoring services. Enterprises use Datonis™ for driving Condition Monitoring, Predictive Analytics and Machine Learning solutions.
Learn more at http://www.altizon.com
About Wipro Ventures
Wipro Ventures is the Strategic Investment arm of Wipro, focused on investing in early to mid-stage technology companies that fit within the context of Wipro's current and future business offerings. Investments made by Wipro Ventures provide Wipro's clients with access to emerging technologies and the advantage of our expertise and familiarity with these innovative solutions. These portfolio companies benefit from access to Wipro's wide array of enterprise clients and industry experience. 
About Lumis Partners
Lumis Partners, an Operating Private Equity Fund, focuses on technology leveraged sectors where they go deep, with multiple investments, to create a strong eco-system, and to unlock value in fragmented value chains. The Firm partners with strong teams to assemble the key components necessary to scale business, with an active collaboration which forms the basis of a sustainable and patient journey of excellence and market leadership. Lumis instituted the TiE-Lumis Entrepreneurship Award which has been recognizing promising start-ups for the last 8 years.
For more details contact:
Aparna Kulkarni
marketing(at)altizon(dot)com
91-7875082648