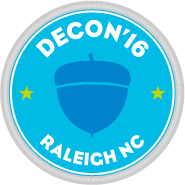 "Jonathan's experience and remarkable portfolio of projects will be an inspiration as the conference opens, and sets the bar high for all of us in the circular economy of materials." Anne Nicklin, Executive Director BMRA
Raleigh, NC (PRWEB) February 02, 2016
The Building Materials Reuse Association (BMRA) is excited to announce that Jonathan Orpin of the Timber Framers Guild will be featured as the keynote speaker for the Decon '16 conference on February 29th, 2016 in Raleigh, North Carolina. Decon '16 is the premier national conference for professionals in the building material deconstruction and reuse industries, and this forward-looking address will seed the future of a world without waste.
According to Anne Nicklin, Executive Director of the BMRA ,"Jonathan's experience and remarkable portfolio of projects will be an inspiration as the conference opens, and sets the bar high for all of us in the circular economy of materials."
Jonathan Orpin is the President of the Timber Framers Guild, which supports the craft, science and business of timber framing. The Guild sponsors community projects, workshops and gatherings, a yearly conference which shares all aspects of timber framing, the only Department of Labor certified heavy timber apprenticeship, and numerous other activities. (tfguild.org.) In addition, Jonathan is the President of Pioneer Millworks, which over its 25 years in business has recycled more than 25 million board feet of wood, and New Energy Works Timberframers. Combined, these companies employ 130 members, have shops in NY and OR, and work hard to use the Triple Bottom Line of People, Profit and Planet as their guiding business principle.
Decon Expo is the biennial conference of the Building Materials Reuse Association. An international gathering of deconstruction and reuse practitioners, it is the premier event for the reused building materials marketplace. This year, the conference is hosted in Raleigh, NC by Habitat for Humanity of Wake County, and NC State University. More than forty speakers from around the world will present case studies, emergent research, and inspire the diversion of construction and demolition waste towards productive markets. In the words of one attendee "If I only get to come to one conference, it's Decon. The quality of sessions and the passion of the participants is unbeatable." More info available at http://deconexpo.org
Exclusive training opportunities will be offered at the conference, including an workshop on handling salvaged wood for woodworking and furniture making. This one of a kind class will feature the design instruction from Chris Rutherford of Detroit's Architectural Salvage Warehouse. We have also partnered with OAI to offer an OSHA-10 class at a steep discount of $58 to conference attendees. Local tours of deconstruction sites, reuse stores, and local high performance buildings will be offered.
The Building Materials Reuse Association works to create a vibrant building materials economy as part of a world without waste. For more than twenty years they have done this through elevating the issue to the public, moving the market for reused materials, and inspiring & supporting the industry. More info available at https://bmra.org.