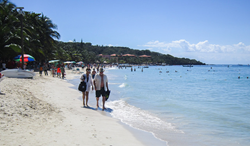 Language, culture, and community support from locals and other expats all can have a dramatic effect on the quality of the expat retiree experience.
Baltimore, MD (PRWEB) February 01, 2016
Many factors come into play when considering a retirement abroad. Cost of living, prices of rents and real estate, and healthcare options are main concerns. But quality of life for retirees moving abroad also depends in large part on being able to fit in quickly, learn the ropes, and mix well with the locals in their adapted communities. Language, culture, and community support from locals and other expats all can have a dramatic effect on the quality of the expat retiree experience.
InternationalLiving.com's recently published Annual Global Retirement Index ranks and rates the best retirement havens around the world in 10 categories. Below are the countries that received the highest scores in the "Fitting In" category.
Costa Rica
Foreigners, including retiree expats, have flocked to Costa Rica for decades. Aside from having an economy largely based on tourism, Costa Rica has a tradition of welcoming guests and a strong emphasis on family and community. Foreigners have been around as expats and tourists for a long time and are readily accepted by Costa Ricans. Just a little practical Spanish goes a long way, and even in gated communities there are plenty of opportunities to mix with locals and learn about Costa Rican culture.
Another benefit of Costa Rica's popularity with foreigners is that in the many close-knit expat communities around the country newcomers are welcomed and accepted. These expats have already blazed a decades-long trail. For most new arrivals, it's simply a matter of following it.
Ireland
The Irish are among the warmest, most welcoming people in the world, and because English is a common language and many North Americans have Irish roots, it's easy for U.S. and Canadian retirees to fit in on the Emerald Isle.
Meeting locals isn't hard. Pubs are still a great place for friends, family, or even strangers to come together to enjoy a drink and a chat. And because of the almost instant ease of communication, opportunities for cultural and community participation present themselves quickly. Volunteer opportunities, arts and cultural activities, historical tours and studies, are all ways foreign retirees in Ireland can begin making themselves at home in their adopted retirement destination almost from the first day of their arrival.
Roatán
Expats who move to the beautiful Caribbean island of Roatán have a well-established expat community ready and waiting to help them with the transition.
In every popular expat neighborhood on the island, it's easy to connect with other expats and to get involved in the community. There are regular gatherings at local bars and restaurants, and local organizations host fundraisers and events throughout the year to bring larger groups together for a cause.
Despite the fact that Roatán is part of a Spanish-speaking nation (Honduras), the local island population and the expats speak English. Knowing some Spanish can help, especially when looking to grab a taxi or shopping in smaller family owned stores, but you can comfortably and easily live in Roatán without having to learn a new language.
Malaysia
Integrating in Malaysia is relatively simple thanks to a long-standing British and Australian tourism and expat presence. There are numerous expat clubs and forums, and because Malaysia was ruled by the British until 1957, English is widely spoken by young and old alike. Even signage is in English, making it easy to navigate the streets, shops, and services right from the start.
Malaysia also has many First World amenities that exist side-by-side with traditional culture. In Kuala Lumpur and Penang, it's possible to pick up the latest handbag at Chanel or Dolce and Gabbana and then spend $3 for a traditional Chinese lunch. International grocery stores can also offer a taste of home when some Cheerios, Ben and Jerry's ice cream, or a bottle of Australian Shiraz is required.
InternationalLiving.com's 2016 Index is the most comprehensive yet. The full report on the four countries that came out top in the "Fitting In" category can be read here: Four Great Places to Retire Where It's Easy to Fit In.
Editor's Note: Members of the media have full permission to reproduce the articles linked above once credit is given to InternationalLiving.com.
Media Contact: For information about InternationalLiving.com content republishing, available source material or to book an interview for radio, TV or print with one of our experts, contact Associate Editor Carol Barron, 772-678-0287 (US), CBarron(at)InternationalLiving.com or visit the Media Center. For automatic updates on the most current stories, follow International Living Media on Twitter.
For 35 years, InternationalLiving.com has been the leading authority for anyone looking for global retirement or relocation opportunities. Through its monthly magazine and related e-letters, extensive website, podcasts, online bookstore, and events held around the world, InternationalLiving.com provides information and services to help its readers live better, travel farther, have more fun, save more money, and find better business opportunities when they expand their world beyond their own shores. InternationalLiving.com has more than 200 correspondents traveling the globe, investigating the best opportunities for travel, retirement, real estate, and investment.