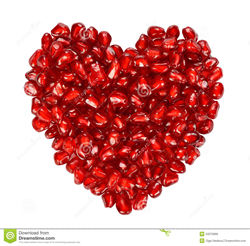 Humble, TX (PRWEB) February 01, 2016
Pomegranates are a juicy fruit that are currently in the prime of their season. From September to February, Americans can get their hands on these tasty treats by visiting a local supermarket. Aside from being delicious and vibrant, there are several ways this little fruit keeps the heart healthy.
Some of the benefits of pomegranates include the following:

o Poms are rich in electrolytes like sodium and potassium, which promote heart health.

o The micronutrients found in pomegranates, along with many other vitamins and minerals, work to remove LDL cholesterol deposits — a major contributor to high blood pressure and heart disease — inside your arteries that hardens and clogs them.

Lower risk of heart disease
o Consumption of concentrated pom juice can decrease the risk of heart disease in Type 2 diabetic patients who have high levels of fat and cholesterol.

o One pom provides approximately 11 grams of fiber, which is twice the amount of eating two large apples. Eating fiber-rich foods every day may lower LDL cholesterol and reduce the risk of cardiovascular disease, according to the American Heart Association. Twenty-five grams of fiber is recommended each day, so adding a pom to the daily diet can provide nearly half of the fiber that's needed.
To learn more about the health benefits of pomegranates or how an altered lifestyle can increase heart and vein health, reach out to Northeast Houston Vein Center today by calling 832-412-4097.
About Northeast Houston Vein Center:
The experienced physicians at Northeast Houston Vein Center offer comprehensive vein treatment in the Houston area. They provide the latest techniques and state-of-the-art equipment in the diagnosis and treatment of venous disease. Since its establishment in 1978, the medical professionals at Northeast Houston Vein Center have been dedicated to going above and beyond for their patients. Treatment options are minimally invasive and the outpatient procedures will allow patients to resume normal activities the same day. At Northeast Houston Vein Center, patients can imagine a life free of venous disease. For more information, visit their website at http://nehoustonveincenter.com/.