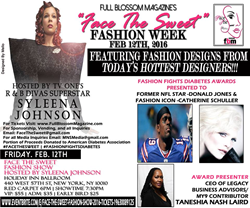 "We wake up in America but, are we really awake in America...We face the heat but, can we Face the Sweet? Fashion Fights Diabetes!"~Breya "Blackberry Molasses" Knight "The Poetic Diabetic"
NEW YORK CITY, NY (PRWEB) February 02, 2016
New York Fashion Week (NYFW) is fast approaching. Among the many fabulous and delightful exhibitions of style and glamour is the return of Full Blossom Magazine's bold and exciting "Face The Sweet" Runway Show, complete with television coverage and a stellar celebrity guest lineup. The action begins with a gala Press Party to introduce the designers, models, and other notables, at the upscale Taj Restaurant, 48 West 21 Street. in Manhattan's chic Chelsea section, beginning at 6 PM on Thursday, February 11, 2016. The following evening, Friday, February 12, 2016 at 6 PM, the night kicks off with a Red Carpet at the flagship Holiday Inn Ballroom, 440 West 57th Street. The electrifying main event, "Face the Sweet" Runway Show beginning at 7:30 PM, is hosted by Syleena Johnson, the stunningly gorgeous superstar of TV One's hit series, R&B Divas.This signature fashion event will be broadcasted for television on the immensely popular WWOR/My 9 TV series Ride With Me TV, bringing all the glamour and pomp of NYFW to a mainstream television audience on the fastest-growing network in the Tri-State area! Attendees will be treated to the latest designs from some of today's hottest emerging designers such as Taylor Knight, Juul Couture, 710 Fashions, Pheline, Kapy Bash Mode and Chubi Line. Special guest walking the runway will be Stellar Award Winner "Kristina Halloway", Trans Mogul: Recording Artist: Author : Internet personality celebrity Viral Vlogger: "TS Madison", Editor of Fabulize Magazine/Art Curator & Entertainment Blogger: Erika Hardison, and more, with a portion of ticket sales benefiting the American Diabetes Foundation's work in the fight against this devastating, life-altering illness. Because Diabetes can strike anyone, this year's presentation of Face The Sweet is open to male, female, and child models of all sizes! On Saturday, February 13, hosted by Ms. Theresa, the Manhattan Ballroom at 29 West 36th Street comes alive on the second floor for the endearing Love Yourself/Love Your Body event, featuring an exclusive, special performance by R&B Divas star "Syleena Johnson", Stellar Award Winner "Kristina Halloway", formerly of the Glams "Kenya Morris", Love & Hip Hop Atlanta star "Ashley T. Moore" and many more. Our Red Carpet host this year will be Entertainment Personality "Chenese Lewis ". This Pre-Valentine's Day gala will steal your heart away, bringing Face The Sweet 2016 to an unforgettable close!This years Fashion Fights Diabetes Awards will be present by CEO of Legacy Business Advisors/My9 Contributor "Taneshia Nash Laird" to Former NFL Star- "Donald Jones" & Fashion Icon- "Catherine Schuller". On August 7, 2013, Donald Jones announced on his Twitter page that due to advancements in his kidney disease he would retire from the NFL. He was diagnosed with Buerger's Disease and required a transplant or kidney dialysis. He received a donor kidney from his father and now brings hope and encouragement to those living with kidney disease nationally. He is the author of a motivational autobiography, The Next Quarter: Scoring Against Kidney Disease, and travels across the United States as a national spokesman for the Kidney Foundation. He also serves on the board of the IGA Nephropathy Foundation of America, and has testified before Congress on the lifesaving benefits of kidney transplants.Face The Sweet will also be honoring "Catherine Schuller". She has been a core team member of Divabetic where she shares her Glam More Fear Less attitude as Image and Style Advisor with founder and former Luther Vandross' assistant. Divabetic is a charity outreach for women living with, at risk of or affected by the epidemic of diabetes in America today. She is rejoining the upcoming Face The Sweet as a Honoree.Ms. Schuller is a legendary figure in the full figured industry having started modeling in the 80s when the industry was just forming. A former Ford Model, she was also an actress and comedienne. After modeling, she became an image consultant studying at Parsons School of Design and becoming a Certified Image Professional with the Association of Image Consultants International in 1993. Recently she started teaching one of the only plus size centric courses at Fashion Institute of Technology in NYC and created an integrated size diversity event as fashion curator called Runway the Real Way, the first inclusive catwalk event that recently won the award for being the Most Consistent Fashion Event in NYC.Face The Sweet 2016 is proudly sponsored by Empire Beauty School, The Twisted Cheesecake, Made From Scratch, Nkoli Skin Food, Natturnerproject.com, Full Blossom Magazine, Ride With Me TV, MNS Media Group, Unique Blends Models, Mende, Happy Face Photo Booths, Stitch and Paint Beauty Loft, Fresh Beatz, Taylor Knight, Robinson Squared LLC., Curvysta Magazine and the "Chenese Lewis Show". This event is presented by Mello Andrews, CEO of Full Blossom Magazine.Join us @facethesweet @fullblossommagFor media inquiries, or to submit prospective clients to appear in Face The Sweet, contact Ernest Jackson of MNS Media Group.