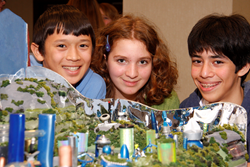 NORTHBROOK, IL and WASHINGTON, D.C. (PRWEB) February 03, 2016
More than a slogan or buzzword, STEM (science, engineering, technology and math) has inspired limitless ideas and activities for creative, diverse hands-on learning.
STEM learning also is incorporated in the call to action for environmental issues targeted on sustainability and wise, efficient uses of limited resources. DiscoverE's Future City competition (http://futurecity.org/) invites approximately 40,000 students from more than 1,350 middle schools to try their hands at green engineering design, with the help of their teachers and mentors who are professional engineers. This year, students are designing virtual reality scale models of cities to handle the 4 Rs of solid waste management: Reduce, Reuse, Recycle and Rot.
In 2015, Future City won the UL Innovative Education Award's grand prize, a competition sponsored by UL, a global safety science leader, and the North American Association for Environmental Education (NAAEE), a leader in environmental education. The five winning entries received a total of $250,000 in cash prizes.
Applications which champion the partnership of STEM skills with sustainability education are now being accepted for this year's UL Innovative Education Award. The application deadline is Feb. 22 at midnight Eastern Time.
Effective proposals should include the following attributes:
➢ Apply math and science or any prominent STEM skill set to real world problems
➢ Help students discover engineering and inspire them to learn more about engineering's role in making our environment sustainable
➢ Guide students to learn how their communities work and become more informed citizens
➢ Inspire students to design and create something on their own
➢ Give students the foundation for developing the skills they'll need for living and working in a 21st century world
➢ Emphasize the value of team work in which students learn how to manage their project, work together, and use research to solve a problem.
Qualified applicants, which can represent either a whole organization or one program within a larger organization, must be a US 501(c)(3) not-for-profit or registered with either the Canada Revenue agency or a Canadian provincial revenue agency as a non-profit organization. Eligible organizations must have children in grades K-12 as their principal audience. Schools for K-12 students are not eligible to apply but not-for-profit organizations that serve school populations are eligible, as are university programs provided they meet the other organizational eligibility requirements.
For more information, see http://ulinnovationeducation.naaee.net.
About UL
UL is a premier global independent safety science company that has championed progress for more than 120 years. Its nearly 11,000 professionals are guided by the UL mission to promote safe working and living environments for all people via two distinct entities: Underwriters Laboratories Inc., a 501(c) 3 public charity, and UL, LLC. UL uses research and standards to continually advance and meet ever-evolving safety needs. We partner with businesses, manufacturers, trade associations and international regulatory authorities to bring solutions to a more complex global supply chain. For more information, visit http://www.UL.com.
About NAAEE
The North American Association for Environmental Education is a pioneering membership organization dedicated to accelerating environmental literacy through education. NAAEE supports a network of more than 16,000 educators, researchers, and organizational members working in environmental education across more than 30 countries through direct membership and 54 regional affiliate organizations. Through sponsored community networks, publications, and employment development opportunities, NAAEE provides resources for educators, professionals, volunteers, and researchers. For more information, visit https://naaee.org.