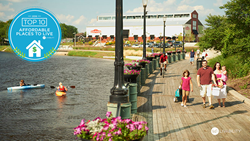 Our ranking looks at cities that are attainable financially based on costs and job opportunities, but also good places to live.
(PRWEB) February 01, 2016
There are places where a person can buy a home for pocket change, and whole towns that cost less than a home in a city like Palo Alto. But if you ask the question "Would you want to live there?", the answer is likely "No." With this in mind, Livability.com has named the 10 Best Affordable Places to Live. These are affordable cities that people would actually want to live in. These cities offer income equality, robust entertainment options, favorable economic conditions and ideal consumer spending.
Livability editors start with data. They examine cost of living and how that compares to national averages for key components of the budget like housing, transportation, food and utilities. They look for cheap places, but they also look for places with high incomes to make those cheap costs go even further.
Editors look for places with high livability, as determined by a LivScore, and low income inequality. Finally, once there is a short list in place, they factor in their own knowledge of these cities and look for a good balance of sizes, geographies and types of cities.
"As with most products you can buy, 'cheapest' isn't always ideal – it's just the least expensive option," says Livability Editor Matt Carmichael. "Our ranking looks at cities that are attainable financially based on costs and job opportunities, but also good places to live."
10 Best Affordable Places to Live, 2016
1. Huntsville, AL
2. Bismarck, ND
3. Rochester, MN
4. Round Rock, TX
5. Sioux Falls, SD
6. Provo, UT
7. Greeley, CO
8. Cedar Rapids, IA
9. Holland, MI
10. Bloomington, IL