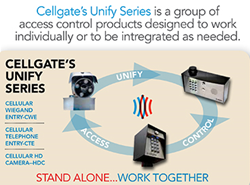 "Our UNIFY Series of products are truly unique in so many ways, and our new naming of these products will better brand them to CellGate." Noel Gouldin, President of CellGate
Dallas, Texas (PRWEB) February 01, 2016
For the last decade, CellGate has provided cellular-based products and services for customers with remote access control and security needs. This month, CellGate has chosen to rebrand and rename their three primary core products—their smart keypad Access Control System, Telephone Entry System and HD Cameras—under one umbrella product group, now called the UNIFY™ Series. All three products in the UNIFY Series have been renamed as well: CellGate's former Access Control System is now called the UNIFY CWE-U320 Cellular Wiegand Entry System; the former Telephone Entry System is now called the UNIFY CTE-U310 Cellular Telephone Entry System; and the former HD Camera product is now called the UNIFY HDC-U330 Cellular HD Camera.
Gouldin explained that the rebranding of their three core products to the UNIFY Series name was undertaken for two key reasons. "First, we have three remote gate access control and security-based products that work incredibly well as stand-alone products, but they can also be integrated with each other to provide more complete solutions for our customers," says Gouldin. "No other company in the industry has products that can do that. It is a competitive advantage that we wanted to make even clearer to our dealers and potential customers, and we felt that rebranding the three products under the UNIFY Series name would accomplish that. Second, branding our remote access control products under the UNIFY Series name will be helpful as we release new products because it provides a framework for how to release new products for different markets going forward."
Having the ability to 'unify' the administration of CellGate products into one proprietary cloud-based portal is a key differentiator for CellGate in the cellular access control industry, and made the selection of the new UNIFY Series name an easy one. "All three of CellGate's core products can be managed from a single cloud-based portal called the Access Control Center," says Gouldin. "Being able to manage the administration of many products via a single portal is one of the reasons customers choose CellGate products over competitors. Because we can 'unify' our core access control products into a single solution and can manage the administration of such products from a single portal, it made choosing UNIFY as the new series name for our three core products pretty easy."
CellGate's newly renamed UNIFY CWE-320 Cellular Wiegand Entry product is the company's keypad-centric offering. Key features include simple creation of restricted and unrestricted access codes, the ability to open and close a gate from a cell phone, and the ability to receive gate activity alerts via text or email. CellGate's newly renamed UNIFY CTE-U310 Cellular Telephone Entry system is their voice-based product that allows users to call up to three designated numbers simultaneously when they reach a gate where the product is installed and would like to request access. If no one answers, three additional numbers can automatically be called to grant or deny access. Lastly, the newly renamed UNIFY HDC-U330 Cellular HD Camera is CellGate's photo monitoring-based product that captures photos of vehicle and walk up gate entries and exits, and then sends the photos in real-time to be viewed via smart phone app, text or from a web portal. Photos can be captured upon motion or vehicle detection, RFID, on demand and on a schedule.
"We are excited about this rebranding and renaming of our core access control products because it really highlights our product advantages," says Gouldin. "Our UNIFY series of products are truly unique in so many ways, and our new naming of these products will better brand them to CellGate."
CellGate provides products and services for remote monitoring over cellular networks. They are the only technology company with a complete suite of cellular-based security products—encompassing smart keypad entry, voice and camera solutions. With their smart phone application and proprietary web-based portal built on Microsoft Azure's cloud service, CellGate offers flexibility found in no other access control or monitoring solution. Visit http://www.cell-gate.com for more information and to view a live demo.