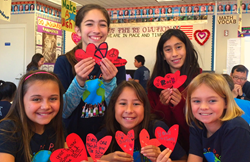 The Great Kindness Challenge is one of the most powerful means for our nation's youth to demonstrate they're an unstoppable force of kindness," said Dignity Health's CEO, Lloyd H. Dean
Carlsbad, CA (PRWEB) February 02, 2016
Kids for Peace announced today that over five million students united in kindness during the 2016 Great Kindness Challenge which took place in schools all over the world January 25-29th. The Great Kindness Challenge was created in 2012 to address school bullying and to promote healthy relationships. The program officially launched in Carlsbad, CA with 3 schools and 1,614 students. The yearly program has multiplied in enrollment each year, having grown to schools in all 50 states as well as international schools in 61 countries.
Schools and students are drawn to the program for its positive and proactive approach to creating kinder school climates through a checklist of 50 kind acts. The checklist is distributed to students at the beginning of The Great Kindness Challenge week. Students are encouraged to complete each kind act over the course of the week, as well as take part in additional service and community-building events.
Last year, schools nationwide joined together to set a new Guinness World Record for the "Most Kind-Hearted Handprints in a Collage." This year, Kids for Peace invited all Great Kindness Challenge schools to complete the kind act, "Make a wish for a child in another country," by participating in their global service project, Kind Coins for Kenya. The goal is to raise enough money to build a fully equipped six room schoolhouse in the remote village of Mikei, Kenya. Schools have answered the call by hosting water bottle recycling drives, kindness cookie sales, and wishing well coin drives. In addition to donating money for the Kenyan school, students are invited to submit a photo for a "Wall of Wishes" to be built inside the new African schoolhouse.
Community members also participated in this transformational week of kindness. Thousands of schools invited their elected officials, fire fighters, police officers, veterans, local businesses, and other community members to cheer on the students with Kindness Community Tunnels, city proclamations, kindness stations, and special incentives.
Jill McManigal, founder & creator of The Great Kindness Challenge, explains, "We know to truly transform school cultures, we must include the entire community inside and outside the school walls. That is why we have kind acts that honor and celebrate principals, guidance counselors, office staff, carpool drivers, crossing guards, volunteers, custodians, teachers and of course, students. We honor the whole school community with kindness!"
Principals agree and are happy to promote the program with fun incentives for the students. Chad Lund, principal of Jefferson Elementary in Carlsbad – one of the founding Great Kindness Challenge schools – took his encouragement to new heights! During last year's Great Kindness Challenge, he promised to skydive out of an airplane with a "Kindness Matters" shirt if all his students completed their checklists. Well, they did and he jumped out of an airplane to kick-off the 2016 Great Kindness Challenge festivities.
While the excitement is large, it is the simple acts of kindness that prove to be the biggest hit. Some of the items on the checklist are: smile at 25 people, help your teacher with a needed task, help a younger student, and sit with a new group of kids at lunch. McManigal explains, "When students perform kind act after kind act, kindness becomes a habit. And when kindness becomes a habit, peace becomes possible."
Lloyd H. Dean, the CEO of Dignity Health, the presenting sponsor of The Great Kindness Challenge agrees, "The Great Kindness Challenge is one of the most powerful means for our nation's youth to demonstrate that they are an unstoppable force of kindness. We are proud to again support and participate in the challenge, and recognize that the impact of the millions of acts of kindness – big and small – will be felt globally."
All participating schools received a Kindness Certified School certificate and a gift of Little Pickle Press' inspiring book, What Does It Mean to Be Kind? by Rana DiOrio. The best gift of all is the joy that is felt as five million students complete kind act after kind act.
"Our team was overjoyed to reach the tremendous milestone of enrolling five million students in 2016," said McManigal. "But now," she says, "we have even bigger goals. We intend to have The Great Kindness Challenge in every school in the United States by 2020, creating a culture where all people care for and respect each other."
If the students, teachers and principals who are already participating have anything to say about it, they'll surely reach this goal.
About The Great Kindness Challenge
The Great Kindness Challenge is one school week devoted to performing as many acts of kindness as possible, choosing from a checklist of 50 suggestions. The Great Kindness Challenge has the power to increase empathy, tolerance, and compassion for all students from kindergarten through high school. Schools may still get involved by signing up at no cost here: http://greatkindnesschallenge.org/School/event.html
The Great Kindness Challenge is made possible by the generosity of presenting sponsor Dignity Health and supporting sponsors: KIND Snacks, Little Pickle Press, ExaMobile, ViaSat, The Code Crew, SDG&E, NRG, Leo Buscaglia Foundation, Servant Leadership Institute, Author Emma Lesko,and McGraw-Hill Education.
About Kids for Peace
Kids for Peace is a Carlsbad-based global nonprofit that provides a platform for youth to actively engage in socially-conscious leadership, community service, arts, environmental stewardship and global friendship. Founded in 2006 by a mother and a Carlsbad High School honors students, Kids for Peace has now launched over 350 chapters in six continents. All Kids for Peace activities are based on the Peace Pledge, wise words written by the children to inspire peace for all.