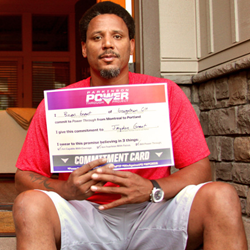 February 13: Brian Grant to host a "MOB" workout from 5 to 6 p.m. ET at NBA Centre Court at the Enercare Center, 100 Princes Blvd., Toronto, Canada.
(PRWEB) February 03, 2016
Called the Parkinson Power Through Project (PTP), Brian Grant urges all people with PD to incorporate exercise into their daily routine to help them live life to the fullest. Moreover, scores of peer-reviewed research support Grant's call to action -- exercise can help people with PD better manage their disease (1).
"We are delighted that Brian Grant has joined WPC to advocate on behalf of the Parkinson's community," states Elizabeth "Eli" Pollard, executive director, World Parkinson Coalition. "Together, we further our shared message with the singular goal to reach as many people with PD and their care partners as possible on how exercise and healthy habits can counter the symptoms of this disease."
Heads of WPC and Brian Grant Foundation have been planning the series of exercise events. The initial PTP journey will lead participants to Portland, Oregon where the final PTP exercise event will take place just before the launch of the 4th World Parkinson Congress in September 2016.
Participants can also visit http://www.PowerThroughProject.org to track their fitness, learn about exercise and why it's valuable for people with Parkinson's. "PTP is a terrific resource in the arsenal of information aimed to help the PD community learn all they can to live as healthfully and meaningfully as possible," adds Pollard.
On Saturday February 13, a PTP event will be held at the NBA All Star game in Toronto. Brian Grant will host a "MOB" workout from 5 to 6 p.m. ET at NBA Centre Court at the Enercare Center, 100 Princes Blvd., Toronto, Canada.
A MOB workout means all are encouraged to participate, furthering WPC's mission to unite the community – people with Parkinson's, care partners, family members, physicians, researchers -- and raise awareness about the disease.
"The PTP gives the PD community a culture that is similar to what I experienced during my career in the NBA," says Brian Grant. "My teammates and I were able to overcome great odds by dedicating our commitment to a culture of support, exercise, attitude, and education. I believe these same characteristics can build a culture for the PD community to achieve a fulfilling life with the disease. For me, PTP is the culture that our community needs to fight together, in order succeed alone."
About the World Parkinson Coalition® and WPC 2016
The World Parkinson Coalition Inc. is a nonprofit organization that provides an international forum for learning about the latest scientific discoveries, medical practices, caregiver initiatives and advocacy work related to Parkinson's disease. The World Parkinson Coalition® launched the first Congress in 2006 to provide a space for the global Parkinson's community of researchers, clinicians, health care professionals, people with Parkinson's and their care partners to meet in person, network and to share advances in Parkinson's research, improve understanding and promote advocacy worldwide, and to potentially shape future research, treatment and care.
From its modest beginning to nearly 10,000 delegates who have participated in the previous triennial Congresses, the WPC 2016 is expected to attract nearly 3,800 delegates. To learn more about the 4th World Parkinson Congress, please visit: http://www.wpc2016.org.
About Parkinson Power Through Project
The objective of the 'Power Through Project: Montreal to Portland' is to inspire the international PD community to get moving and raise awareness about PD. Brian knows from his career as an elite athlete the importance of exercise and nutrition for health and wellbeing. You can sign up today, as an individual or in teams of up to 10, to commit to a series of carefully chosen exercise programs specially designed to benefit people with PD. The goal is to complete 100 hours of physical exercise, and cover 3,000 virtual miles. That's equivalent to the distance from Montreal in Canada – home of the 3rd World Parkinson Congress – to Portland, OR in the US, where the 4th World Parkinson Congress is being held from September 20-23, 2016. To learn more, please visit http://www.powerthroughproject.org.
About the Brian Grant Foundation
The Brian Grant Foundation is a nonprofit organization committed to empowering those impacted by Parkinson's to live active and fulfilling lives. To learn more, please visit http://www.briangrant.org.