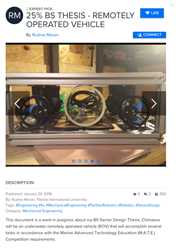 [FIU] got encouraging feedback from both students and faculty; all in agreement that Portfolium filled a key gap between college and career. - Bridgette Cram, Office of the Provost at FIU
San Diego, CA (PRWEB) February 04, 2016
Portfolium.com, the ePortfolio network that helps students connect learning with opportunity, has announced a campuswide rollout of its ePortfolio platform for all Florida International University (FIU) students, following a successful pilot with the FIU Chaplin School of Hospitality. This expansion extends Portfolium's reach into one of the largest universities in the United States.
"FIU's Chaplin school was an early adopter of the Portfolium platform. Following a painless rollout, Chaplin saw high adoption by students, and got encouraging feedback from both students and faculty; all in agreement that Portfolium filled a key gap between college and career. It made obvious sense for FIU to move forward in launching this service to benefit all students, campus-wide," said Bridgette Cram, Student Success Manager, Office of the Provost at FIU.
As part of the agreement with FIU, over 44,000 students have been provided with free ePortfolios. Since launching just over a week ago, students have collectively added over 286,000 unique data points (including 25,000 skills), all of which make Portfolium's recruiting search engine and matching technology smarter and more effective, including for employers seeking qualified job candidates.
"We're proud of our partnership with FIU for many reasons. One that stands out for me is the constant feedback I receive from employers, all of whom hold FIU in high regard. Unlocking access to talented FIU students will be a huge win for recruiters and hiring managers searching for top entry-level talent," said Adam Markowitz, founder and CEO of Portfolium.
About Portfolium
Portfolium partners with colleges & universities to help students connect learning with opportunity. Our ePortfolio network helps 5M+ students from over 150 partner institutions manage their skills and launch their careers. Portfolium's cloud-based platform empowers students with lifelong opportunities to capture, curate, and convert skills into job offers, while giving learning institutions and employers the tools they need to assess competencies and recruit talent.
About Florida International University
As Miami's first and only public research university, offering bachelor's, master's, and doctoral degrees, FIU is worlds ahead in its service to the academic and local community. Designated as a top-tier research institution, FIU emphasizes research as a major component in the university's mission. The Herbert Wertheim College of Medicine and the School of Computing and Information Sciences' Discovery Lab, are just two of many colleges, schools, and centers that actively enhance the university's ability to set new standards through research initiatives.