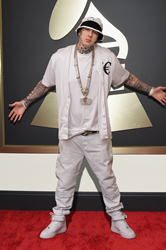 Santa Clara, CA (PRWEB) February 01, 2016
Hip hop's most popular independent rap artist is starting 2016 off with a bang. Last month, Norco made international headlines when screenshots were leaked of an alleged conversation with Molly O'Malia, a 14 year old singer who was known for texting with Tyga. The story was covered by BET, WorldStar Hip Hop, XXL Magazine, and tweeted by TMZ. but Norco has yet to comment about the incident.
In 2015, Bay Area rap artist Bobo Norco took over the hip hop world with a huge performance at South by Southwest, a hit single that charted at number nine on college radio, another single that was placed on Top 40 radio, and ten major publications that placed him on the cover of their magazines!
Bobo Norco's success began on YouTube where he quickly accumulated nearly two million views. His popularity spread internationally with satellite and FM radio where he was the winner of several competitions beating fellow artists David Guetta and Chris Brown. Norco has now caught the attention of the biggest sports event in the world... the Super Bowl. On February 6th in Santa Clara, California, Bobo Norco will be taking the field as a player in the celebrity flag football challenge during the Super Bowl festivities.
At this year's Celebrity Flag Football Challenge, Norco will join other celebrities and athletes on the field including Tyga (Recording Artist), Chad Johnson (Ochoconco), Kirk Cousins (Washington Redskins), Michael Irvin (Dallas Cowboys), Patrick Warburton (Actor), Victor Ortiz (Boxer), Cung Le (UFC), Doug Flutie (San Diego Chargers), Tony Dorsett (Dallas Cowboys), Rashad Ross (Washington Redskins), and many more.* (*roster is subject to change).
This event comes on the heels of Norco's upcoming album this March, with announced features from fellow rappers; Wiz Khalifa, 2 Chainz, Future, T.I., Gucci Mane, Wale, Rich Homie Quan, Tory Lanez, and Young Thug.
Norco will be accompanied at the Super Bowl by fellow artist Real and long time reps Domenick Nati and Timothy Chan. He has also announced that he again will be attending this year's Grammy Awards and the NBA All Star weekend to promote the launch of his brand new urban clothing line Kindom Couture. For a VIP seating and ticketing to the celebrity flag football challenge, visit http://www.CSweat.com.
###
https://twitter.com/BoboNorco
http://instagram.com/BoboNorco
http://www.pandora.com/Bobo-Norco
https://www.facebook.com/BoboNorco