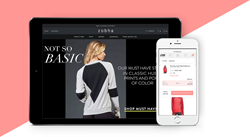 We outgrew our previous platform and needed to improve the design of our sites to elevate our customers' shopping experience.
PHILADELPHIA, Pa. (PRWEB) February 03, 2016
WebLinc, the commerce platform provider for the fastest growing online retailers, today announced the launch of two redesigned sites, http://www.marika.com and http://www.zobha.com, for FAM Brands, a family-owned and operated activewear manufacturer, on WebLinc's platform. The revamped sites went live in late October.
"We outgrew our previous platform and needed to improve the design of our sites to elevate our customers' shopping experience," said FAM Brands' Director of Ecommerce Justin Zarabi. "We knew WebLinc would be the ideal partner for us because of the award-winning sites they've designed and custom features they've developed for other brands."
Headquartered in Los Angeles, Marika was founded in 1982 during the aerobics exercise boom. Today, the retailer is one of the top three United States brands in the yoga-inspired activewear category, growing at 30 percent compound annual growth rate. The brand pairs sleek designs with patented technologies to create products that fit and flatter. Zobha is the first and only brand combining patented shape-optimizing technology with edgy, couture-inspired design.
With FAM Brands' direction to start from scratch, WebLinc and FAM Brands' creative teams partnered to redesign all aspects of the sites to complement the two brands' overall design direction and aesthetic. The new sites feature lookbooks, video content, and improved photography to highlight Marika and Zobha's activewear designs.
WebLinc's reputation for reliable custom development was tapped for both sites to build a real-time Instagram plugin which collects and publishes user-generated content (UGC) to the homepages, install WebLinc's exclusive Hearting feature, and for Marika, add to an instructor program. Another custom feature is an advanced reviews engine, which allows customers to use sliders and include personal data when leaving reviews. Reviewers can educate would-be customers on how garments fit, a product's style and comfort levels. Making the most of UGC to produce detailed personal reviews, customers can upload pictures and share details including location, product size purchased, body type, and preferred workout.
"It's common for online retailers like FAM Brands to tell us they've outgrown their ecommerce platform," said Darren C. Hill, CEO and co-founder of WebLinc. "The Weblinc Commerce Platform gives FAM Brands the flexibility and multi-site capabilities they wanted for years. Together, our teams brought new life to Marika and Zobha's sites with fresh looks and custom features. As a WebLinc client, FAM Brands has the platform to compete today, and to scale for rapid future growth."
Other features and tactics the relaunched sites employ are product bundling to increase order values, custom badging, and integrations for FAM Brands' forthcoming WMS system. Custom badging allows the FAM Brands team to tag and market the specific fabrics associated with a garment. It also provides customers a feel for how garments perform in categories such as moisture-wicking, stretch, body shaping and weather protection.
FAM Brands and WebLinc are working together to roll out additional sites in the FAM Brands family.
About WebLinc
WebLinc is the commerce platform for fast growing online retailers. Mid to large-size retailers consistently outpace their competition with the modern, agile technologies of the WebLinc Commerce Platform and the company's strategic expertise. Based in Philadelphia with satellite offices in New York, and Toronto, WebLinc powers commerce sites for dynamic, high-growth retailers including Sanrio/Hello Kitty, Urban Outfitters, Inc.'s brands Terrain and BHLDN, U.S. Polo Assn., Stila Cosmetics, Jeffers Pet, and others. To learn more, visit http://www.weblinc.com or follow @WebLinc.