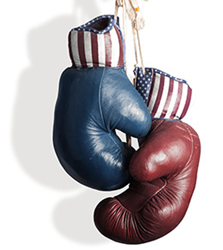 "Being right in the center of government, it's hard not to get a bit of Election Fever." said Jennifer Goodman general manager Capitol Hill Hotel. "We thought we might as well have a little fun with it as election season amps up."
(PRWEB) February 03, 2016
Not many D.C. hotels offer guests the opportunity to snuggle up next to JFK or Ronald Reagan, but this election season, Capitol Hill Hotel is giving guests a choice of rooms decked out in memorabilia from their political party's past and present. As a member of the Independent Collection — a growing collection of intimate lifestyle hotels — Capitol Hill Hotel aims to provide unique experiences and the Red State/Blue State package is no exception. Guests will be able to choose between an all-Democrat or all-Republican suite with corresponding furnishings, amenities and All-American comfort food.
"Being right in the center of government, it's hard not to get a bit of Election Fever." said Jennifer Goodman general manager Capitol Hill Hotel. "We thought we might as well have a little fun with it as election season amps up."
The package, which will run from mid-February 2016 until the elections in November, will allow guests to choose from either a Blue State, Democratic Party-themed room or a Red State, Republican Party-themed room, which will be complete with decorations, books and more to align with each respective political party. The package will also include a selection of treats as American as apple pie, including DC-themed chocolates by The Capital Candy Jar - DC's Hometown candy company.
While at Capitol Hill Hotel, guests casting their vote with the Red State/Blue State package will be provided with a $25 gift card to Ted's Bulletin. Located at the corner of E Street SE and 8th Street SE, this D.C.-favorite serves classic American comfort food and is best known for its homemade pop tarts and adult milkshakes. After dinner, guests can exercise their special "government security" clearance to access Capitol Hill Hotel's collection of presidential movies, including classics like "All the President's Men," "Lincoln," and "JFK," as well as access their very own in-room presidential library (of course with their own presidential party slant.)
Guests can book the Red State/ Blue State package at: http://www.capitolhillhotel-dc.com/washington-dc-hotel-deals/red-stateblue-state/. For more information about Capitol Hill Hotel, please visit http://capitolhillhotel-dc.com/. To enroll in the Independent Collection's IC Local program, please visit http://www.independentcollection.com/ic-local.
###
About Capitol Hill Hotel: Capitol Hill Hotel is located in the heart of the Capitol Hill historic district, one of the most prestigious neighborhoods in the capital, and just footsteps from the capital's most famous landmarks. Capitol Hill Hotel welcomes both short and extended stay travelers and the property encompasses 153 all-suite guestrooms which all feature a kitchenette or kitchen. Drawing inspiration from its beloved neighborhood, the Capitol Hill Hotel design is dubbed "Federalist chic" as it incorporates modern décor with local aesthetics – paying homage to the vibrant and culturally eclectic city in which it resides. Adjacent to the hotel are renowned local restaurants and boutique shopping alternatives. Travel a few steps further and be amongst world leaders and moved by historic landmarks.
About Independent Collection Hotels: The IC is a growing collection of cultivated and intimate lifestyle hotels located in unique residential neighborhoods of gateway cities across the US. Founded in New York in Tribeca and then Brooklyn, it has grown to Boston's West End, Midtown Village in Philadelphia, Washington's Capitol Hill, Georgetown, and Dupont Circle, down to Miami's South Beach, and west to Santa Barbara across the last five years. This distinctive hotel concept is renowned for its simple sophistication, authentic connection to local communities and personalized service. Independent Collection hotels are created for the independently minded traveler and invite guests to experience the true spirit of the city. For more information on Independent Collection, please visit http://www.independentcollection.com