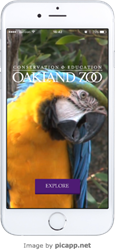 Planning a day at Oakland Zoo just got a lot easier...increasing your time to enjoy the Zoo and animal exhibits" said Nik Dehejia, Oakland Zoo
Oakland, CA (PRWEB) February 02, 2016
Oakland Zoo has launched a mobile application for both iPhone and Android users designed to enhance the guest experience by allowing visitors to better navigate the park and be aware of all the Zoo has to offer on any given day. The app, free to download, features an interactive Zoo map, exhibit information, guest service information, upcoming events and much more.
"Planning a day at Oakland Zoo just got a lot easier...through the app, Oakland Zoo provides another opportunity to seamlessly purchase admissions and parking permits, increasing your time to enjoy the Zoo and animal exhibits," said Nik Dehejia, Oakland Zoo's CFO.
Memphis-based Speak Creative was contracted by the Zoo to help develop and design the app. "Our team was excited to work on this project with the Oakland Zoo," said Amanda Evans, director of marketing at Speak Creative. "The new mobile app allows visitors to easily plan and explore all that the zoo has to offer including information about each animal and a GPS map. This hand-held tool is a must for visitors and members alike."
The app also features an interactive social media tool, connected to a custom-designed photo both feature that allows guests to share their visit to the Zoo in real-time. The app is available for free download via iTunes for Apple devices and the Google Play store for Android devices at the hyperlinks provided or by searching "Oakland Zoo".
App Store:
https://itunes.apple.com/is/app/oakland-mini-guide/id1014226565?mt=8
Google Play:
https://play.google.com/store/apps/details?id=com.speakcreative.twoaklandzooandroid
ABOUT SPEAK CREATIVE:
Speak Creative is a digital agency with offices in Memphis and Nashville. Working with clients around the country, Speak specializes in amplifying the digital presence of organizations, ranging from churches to zoos through web design, app development, social media, content generation and other digital marketing services.
ABOUT OAKLAND ZOO:
The Bay Area's award-winning Oakland Zoo is home to more than 660 native and exotic animals. The Zoo offers many educational programs and kid's activities perfect for science field trips, family day trips and exciting birthday parties. Oakland Zoo is dedicated to wildlife conservation onsite and worldwide. Nestled in the Oakland Hills, in 500-acre Knowland Park, the Zoo is located at 9777 Golf Links Road, off Highway 580. The East Bay Zoological Society (Oakland Zoo) is a nonprofit 501(c)3 organization supported in part by members, contributions, the City of Oakland and the East Bay Regional Parks. For more information please visit our website at http://www.oaklandzoo.org