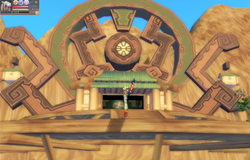 Toronto, ON (PRWEB) February 02, 2016
Suba Games is pleased to announce the addition of the Academy of Mirrors and the Resurrection System like nobody has seen before. To compliment this update, a wealth of items has been added to the Item Mall store.
Overview of Academy of Mirrors
Up at the top of Mount Babel lies the mysterious Academy of Mirrors. What lies inside are sprites gone wild and corrupted, and the Grand Caretaker Sprite needs help to cleanse the halls of the academy. Deeper inside lies a sprite whose own corruption has turned on him.
Overview of Reincarnation System
Want to increase power beyond imagination? Talk to the reincarnation instructor and begin a journey to power far beyond imagination! With the help of some gold and a reincarnation stone, one can reincarnate back to level 10 with the benefit of having more Attribute Points every 5 levels and the ability to transform as a powerful beast when in danger once per day! With each reincarnation, players can harness the powers of a different beast!
Item Mall Update
Plenty of goodies have been added to the Item Mall! Valentine's and Winter Costume boxes, Ring and Skill/Demon Charm boxes, Orange Improvement Tomes, Accessory boxes for more storage space, backpacks, animal ears, more costumes and more!
Gem Exchanger
What's that? Have unwanted low grade gems? Fear not, for the Gem Exchanger is here! Trade 5 of a lower tier gem as well as some gold for the same gem that is one grade higher!
About Dream of Mirror Online Skydive Video
https://www.youtube.com/watch?v=Soy2q06YrtU
About Dream of Mirror Online
DOMO is a beautiful anime themed social MMORPG based off of Chinese Mythology. Come delve into the world inside the mirror and discover what made this title a classic such as the expansive job system, flight system, the intricate crafting system and more!
About Suba Games
Suba Games is a pioneer in North America for the Item Selling (micro-transaction) business model, thus giving users complete access to all games for free , with the option to expand gaming experience by purchasing game enhancements (virtual items) such as avatar customizations and pets.
Suba Games offers a variety of free online games. Whether one is interested in MMO, RPG, RTS, or FPS, Suba Games have something in each genre that gamers will enjoy.
The company's growing library of titles includes the world famous franchise "Pristontale"; the PVP focused Sci-Fi MMO "ACE Online"; the beloved classic MMO "Dream of Mirror Online". With a rapidly growing community of over 10 million gamers and a deep portfolio of development partners, Suba Games is a leading destination free-to-play online multiplayer for games. Join Suba Games to play the best online MMO games 100% free.