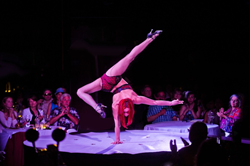 Described as 'the Kit Kat Klub on acid' and 'the hottest ticket in town'
Seattle, WA (PRWEB) February 02, 2016
Teatro ZinZanni founding creative team member Reenie Duff bands together with long-time cast member and Montreal-native Andrea Conway Doba ("Hollywood Nights;" "The Hot Spot") to direct the all-new, larger-than-life theatre spectacle, "Be Italian!" opening in the famous Seattle spiegeltent February 4, 2016 and running through June 12, 2016. In her formal position at the tent as associate artistic director, Duff has developed and nurtured a company of extraordinary artists from all over the world for the past 18 years, created and directed numerous family shows at the tent and "Be Italian!" just happens to mark her directorial debut of a dinner show production. Conway Doba, her co-director, has been a Teatro ZinZanni cast member since 2001, having collaborated in 19 different productions as an artist in that time. Together, these two female powerhouses and have developed "Be Italian!" into a raucous evening of love, chaos and dinner!
It's been quite some time since a Teatro ZinZanni production was directed by an all-female team, simply by nature of the tent being a visionary creation of its founder Norm Langill, a regular director or co-director of its dinner shows. "I have watched and learned from Norm these past 18 years," Duff commented. "In this form there is much to be mined from the artists themselves and the director is the craftsman who looks at pace and dynamics and texture with the intention of making a show that hangs together well, makes sense for the characters, and leaves the audience feeling satisfied and above all, entertained. Norm strives for that with each show and my goal is to do the same."
"Be Italian!" will be Teatro ZinZanni's 98th new show and just like with each new show that has come before it, the creative team and the artists have been challenged to bring to life new ideas to reinvent the show concept. "We have loosely set the show in the 80's and we mine a lot of music from that era, particularly rock n' roll hits that will be familiar to the audience," Duff commented. "We feature tunes by LoverBoy, INXS, Pat Benatar, and Aerosmith as well as classic Italian songs and the music of the Tarantella." "Be Italian!" centers around an American-Italian family and is truly a celebration of the new world and the old world Italians coming together and learning from each other. It's about respecting the traditions of the past but making room for innovation and growth – much like the traditions of show-making under the Teatro ZinZanni tent.
"Be Italian!" plays February 4-June 12, 2016 (press night February 18) at Teatro ZinZanni (222 Mercer Street, Seattle, WA 98109). Ticket prices start at $99 and can be purchased online at ZinZanni.com/Seattle, by phone (206) 802-0015, or in-person at the Teatro ZinZanni Box Office (open Tuesday-Sunday, Noon-7:00 p.m.).
About The Cast
The international cast features comedic genius and award-winning talent Christine Deaver (recipient of numerous Garland, Ovation, and L.A. Weekly awards) who will carry audiences through the night alongside Canadian funny-man Joe De Paul (Cirque du Soleil), prima ballerina turned hoop aerialist Ariana Lallone (former 25-year Pacific Northwest Ballet prima ballerina), masterful aerialist Rui Ling (Cirque du Soleil), contortionist beauty Vita Radionova (finalist on America's Got Talent 2015), physical artist and tapping sensation Mickael Bajazet (former member of French acrobatic trio Les Petite Frères), master trapeze artists Die Maiers, and rock vocalist Jen Ayers (Seattle band, Honey Tongue).
"Be Italian!" is directed by Reenie Duff with co-direction from Andrea Conway Doba, costume design by Louise DiLenge, sound design by Johnny Baca, lighting design by Peter Bracilano, props and scenic design by Shauna Frazier and choreography by Brett Nugent.
For complete cast and company details as well as the show menu, visit: http://zinzanni.com/seattle
About Teatro ZinZanni:
Teatro ZinZanni is an original show, which combines European cirque, cabaret, spectacle, and live music meanwhile serving up a multi-course feast. The show is presented in a gorgeous, climate-controlled, antique cabaret tent (known as a spiegeltent). Imported from Belgium, the spiegeltent is nicknamed the Moulin Rouge. Built in 1910, it boasts stained glass, hand-carved wooden interior columns, polished crystal and mirrors. Guests are seated restaurant-style in this unique venue, and the action of the show takes place throughout the circular structure. The Moulin Rouge comfortably seats 285 guests.
# # #