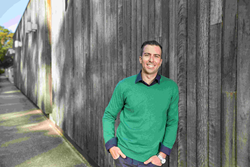 (PRWEB) February 02, 2016
Michael Coombs, a licensed real estate agent in the Sydney, Australia, market, has joined the prestigious Haute Residence Real Estate Network.
The Haute Residence Real Estate Network (Hauteresidence.com), affiliated with luxury lifestyle publication Haute Living, is proud to recognize Michael Coombs as a prominent real estate professional and the network's newest partner. Haute Residence unites a distinguished collective of leading real estate agents and brokers, highlighting the most extravagant properties in leading markets around the globe for affluent buyers, sellers, and real estate enthusiasts.
About Michael Coombs:
Michael Coombs is the principal at Sydney's McGrath Estate Agents, one of Sydney's most successful real estate businesses. He focuses his efforts on the Lower North Shore and has assisted thousands of clients in finding their dream home. Michael's client base has featured many notable clients, including some of the country's biggest CEO's, celebrities, sports stars, and foreign investors.
Coombs is arguably one of the top-performing agents in the Sydney prestige sector. His extraordinary negotiating skills and ability to produce outstanding marketing campaigns and results have seen him consistently set new benchmarks for some of the area's most prestigious homes.
Last year, Coombs inspired thousands of his real estate colleagues during his presentation at AREC, the southern hemisphere's largest real estate conference.
In addition to his professional achievements, Coombs' dedication to the local community through his fundraising efforts for local charities and schools, as well as his charity work with disadvantaged kids in Fiji (Fr Joe Foundation) reflects his commitment to giving back to people and the community.
Coombs has a very grounded, likeable, and disciplined persona. His reputation, in-depth market knowledge, outstanding client relationships, and exceptional results have engendered intense customer loyalty with clients who choose him to personally handle their property sales.
To learn more, visit Michael Coombs's Haute Residence profile: http://www.hauteresidence.com/member/michael-coombs
About Haute Residence Real Estate Network:
The Haute Residence Real Estate Network (Hauteresidence.com) offers readers the most prominent directory of experienced realtors, brokers and luxury listings and has grown to be the number one source for real estate news, residential developments, celebrity real estate news and more. Seeking an experienced interior designer? Hauteresidence.com is also home to Haute Design Network, a collective of celebrated interior designers that will help you decorate your new home or stage an active listing.
Access all of this information and more by visiting: http://www.hauteresidence.com