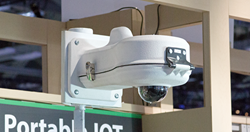 With Velociti, we are able to provide the site survey, installation and monitoring for a truly all-encompassing solution, start to finish.
Riverside, Mo./Fremont, CA (PRWEB) February 02, 2016
Velociti Inc., a global provider of technology deployment and managed services, and V5 Systems, makers of an outdoor security solution and platform for the industrial Internet of Things (IOT), today announced a partnership that will provide Velociti's comprehensive deployment and management expertise to V5 System customers.
"We have created a robust and unique product that is a completely self-contained IOT Security Solution," said Steve Yung, Chairman and CEO of V5 Systems. "With Velociti, we are also able to provide the site survey, installation and monitoring for a truly all-encompassing solution, start to finish. That is something no one else can offer, and we are incredibly excited that we can provide that level of support for our customers."
V5 Systems unveiled two new systems at Dell World in October. They feature solar panels for self-powered operation, up to three days of battery life with V5's proprietary battery, 4G LTE and Wi-Fi connectivity and GPS, and temperature and seismic (shock) sensors. Additional features include a chemical sensor that can detect noxious gases and other chemical agents. Acoustic sensors, which will be able to detect gunshots as well as more minimal sound frequencies, are planned for 2016.
"The technology they offer is extremely innovative," said Jim West, Vice President of Velociti's Facilities Division. "The value these devices can provide law-enforcement, public venues, and educational and government facilities in terms of safety and crime-prevention is unparalleled, and Velociti's experience working with these sectors and ensuring they are implemented accurately and effectively is something we take great pride in."
Connected devices and the IOT are the future of public safety. Utilizing smart technology, ensuring it's installed correctly and maintaining the health of these systems are all critical pieces to the puzzle. The intelligence data provided by today's web of connected devices not only allows for faster, smarter reactions, it could lead to the predictive use of big data, permanently changing the security sector. V5 Systems and Velociti understand the importance of this interconnected relationship and are excited to partner for the future of security and IOT.
About V5 Systems
California-based V5 Systems was founded in 2013 and operates out of Fremont CA. Its founders were intent on delivering a security solution that could be deployed in any outdoor environment without the limitations that currently exist around connectivity and the ability to tap into fixed power (trenching, permits, time). V5 Systems is a manufacturer of self-powered, portable computing and communications systems for outdoor Intelligent Security and IoT industrial control and data collection applications. V5 Systems innovative portable security and IoT solutions contain our patented power system, processors, storage, wireless communications and sensors in a Linux operating environment delivering a rapidly deployed, self-powered, intelligent edge computing system. For more information, visit http://www.v5systems.us.
About Velociti Inc.
Velociti is a global provider of technology deployment services, specializing in the installation and service of a broad range of transportation and networking technology products. Velociti's experience allows enterprise level technology consumers to maximize ROI as a result of leveraging expert, rapid deployment. Velociti clients include many Fortune 500 companies from a wide variety of market segments, such as transportation, retail, distribution, manufacturing, healthcare, government, education, food service and public venues. For more information visit http://www.velociti.com or call toll free (855) 233-7210.