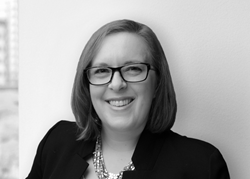 Diane brings expertise and a solid track record of helping organizations in the private and public sectors maximize results and impact.
Chicago, IL (PRWEB) February 03, 2016
The Alford Group is pleased to welcome Diane Knoepke to the firm as senior consultant.
Diane has spent her 16-year career helping people change organizations for stronger impact. With a deep background, advising over 60 nonprofits and corporations in organizational assessment and strategy, impact measurement, corporate partnerships, giving and development and value creation, Diane's experience and proven expertise brings an expansion of strategy and depth of knowledge available to Alford Group clients.
Taking the reins of The Alford Group's corporate impact line of service, Diane will continue her work with corporations seeking greater social impact, utilizing strategic planning to determine investments that align with corporate priorities. Diane's work will also focus on helping nonprofit organizations to plan and deliver on their intentions through organizational assessment, strategic planning, modeling, measurement and maximizing corporate partnerships.
"We are very excited to welcome Diane to The Alford Group," said Brenda B. Asare, president and chief executive officer of The Alford Group. "She brings expertise and a solid track record of helping organizations in the private and public sectors maximize results and impact. As The Alford Group grows, Diane's experience and expertise are exactly what we need to introduce our services to new markets and to deepen our firm's breadth of experience even further for the benefit of our clients."
Diane will be based from The Alford Group's Chicago East Division office, with initial clients including the Kohl Children's Museum and BeCause Foundation. Past clients include the American Medical Association, Chicago Housing Authority, Chicago Public Library Foundation, Credit Suisse Americas Foundation, GE Healthcare, Prospect Human Services and SickKids (Toronto).
"I'm thrilled to join The Alford Group's team of social sector leaders," said Diane. "I look forward to continuing to do the high-impact work that excites me most: intensifying the results that not-for-profits create through their programs and amplifying the results that companies create through their investments."
Diane comes to The Alford Group from her role as managing director, client leadership at ESP Properties, a firm that helps sports, entertainment and nonprofit organizations unlock greater value from their audiences and brand partnerships. In that role, Diane advised nonprofit organizations on how to attract and build corporate partnerships for mutual benefit. Diane also managed the firm's North American consulting talent, including responsibility for overseeing service quality and innovation, advancing client satisfaction and supporting the team's growth. Diane will present April 17 at the IEG 2016 sponsorship conference on the balance between heart strings and hard numbers for nonprofits seeking corporate partnerships.
Prior to ESP Properties, Diane was a director of Mission Measurement's nonprofit social impact measurement practice. There she advised nonprofit and governmental organizations on how to frame, measure, and fund their social impact.
Contact Diane if interested in building or maximizing corporate partnerships, or in organizational assessment or strategic planning: dknoepke (at) alford (dot) com.
Learn more about Diane on The Alford Group's website.
About The Alford Group
Celebrating 37 years of serving the nonprofit sector. As a national full-service consulting firm to nonprofits since 1979, The Alford Group has empowered more than 3,000 mission-based organizations around the world to grow, improve, and fulfill their missions. The firm's mission is to strengthen the not-for-profit community. From offices in Seattle, Chicago and New York, experienced consultants offer customized solutions to nonprofit organizations, corporations, associations and foundations in fundraising, organizational strategy and assessment of structure and impact, governance and professional development, all based on sound principles, guidance, tools and structures that help organizations realize their full potential and greatest community impact. Visit our website and follow us on LinkedIn or Twitter @thealfordgroup.