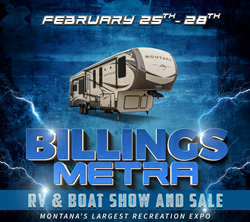 Missoula, Montana (PRWEB) February 02, 2016
The Billings RV & Boat Show and Sale, sponsored by Billings Recreational Showcase, will feature incredible discounted pricing on new and used RVs and boats from some of the top dealers in Montana. This show comes at a great time for people as they start thinking about summertime and their favorite outdoor activities, while looking for great prices on a variety of recreational vehicles.
The Billings Metra RV & Boat Show and Sale is a free event where people who are interested in purchasing an RV or boat for the first time or who plan on upgrading their current unit, can go to check out the top-of-the-line RV and boat manufacturers and take advantage of incredibly low "show" pricing and no sales tax in Montana. Dealers offer customers and potential customers prices that aren't typically seen on their lots and are exclusive to the Show.
Buying an RV, boat, or other recreational vehicle is meant to be an enjoyable and rewarding experience. That's why you can feel confident at the Show about talking to qualified dealer representatives who will take the stress out of selecting a vehicle and start your recreational adventures off the right way. Whether you are looking for your dream RV or boat, hoping to win a Yeti cooler during the Show giveaway, or simply wanting more information on the recreational lifestyle around Montana and nearby states, join us for a family-friendly weekend at the MetraPark!
Top RV and Marine Dealers featured at the Show:
Bretz RV & Marine
Big Sky RV
TNT Suzuki and Marine
I-90 Motors & RV
Local Cuisine:
In addition to RV and Boat Dealers, the Show will feature numerous local food vendors from Montana. Whether you're in the mood for some home-cooked BBQ, hot dogs, or Greek food, award-winning cinnamon almonds, or fresh kettle corn and funnel cakes, there are food options for all ages! Here are some local businesses joining us at the Show:
The Nut Shack
Big Guy Barbeque
Unicorn Kettle Corn and Funnel of Love
The Greek Station
Killer Hot Dogs
Non-Profit Organizations and Recreational Associations:
Non-profit work and the recreational lifestyle are both important to us. That's why we've placed an emphasis on inviting various organizations around Montana to partner with the Show all weekend long. Just like others, we want to show our support for preserving and exploring the beautiful state of Montana, such as learning trail safety from ATV lovers, conserving land and natural resources, and protecting native wildlife species. Here is a list of organizations and associations joining us at the Show:
ZooMontana
Visit Southeast Montana
Montana Wildlife Federation
Treasure State ATV Association
The event hours for February 25-28 are listed below:
Thursday, February 25: 10am – 6pm
Friday, February 26: 10am – 8pm
Saturday, February 27: 10am – 8pm
Sunday, February 28: 10am – 6pm
For more information on the Billings RV & Boat Show and Sale, please visit http://www.billingsrvandboatshow.com or check out the Facebook page at http://www.facebook.com/billings.recreational. The MetraPark is located at 308 6th Avenue North, Billings, MT 59101.