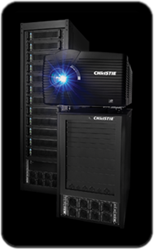 Ever since the first Christie RGB laser projection system was installed at CGV Starium in Seoul last October, we have been very pleased with the results.
Busan, South Korea (PRWEB) February 05, 2016
Christie®, a leader in creating and sharing the world's best visual and audio experiences, is proud to announce that CGV, South Korea's largest multiplex cinema chain, has installed its groundbreaking RGB laser projection system in Busan's CGV Centum City.
Located in the upmarket Haeundae district, CGV Centum City comprises eight auditoriums, including the premium Starium auditorium fitted with 381 deluxe seats and a massive 27-meter wide screen – the largest in Busan. This is CGV's third large-screen theater in South Korea to be equipped with Christie's RGB laser projection system following the installation at the flagship CGV Starium and SphereX CGV Youngdeungpo in Seoul in October and December 2015 respectively.
The CGV Centum City system is a Christie CP42LH 3DLP® 4K RGB laser projector connected - via fiber optic - to a laser rack housing a dozen laser modules that generate white light from a combination of RGB primary color wavelengths for optimal brightness, colour and image quality when used with passive polarization-based 3D glasses. Installed by Christie's Korean partner, Ray & Resources, it generates close to 60,000 lumens – twice what current digital projectors with lamps offer. Regular movie screenings began February 2.
"Ever since the first Christie RGB laser projection system was installed at CGV Starium in Seoul last October, we have been very pleased with the results. The Christie CP42LH has redefined the cinematic experience by achieving the highest in brightness and the most realistic color reproduction," said Nochan Park, senior manager, Cinema Technology Team, CGV. "This is the future of digital cinema and we are delighted to introduce this innovative technology to our largest screen in Busan. We are confident that movie-goers at CGV Centum City will enjoy a spectacular and highly immersive 3D cinematic experience with this top-of-the-range laser projection system."
Henry Khang, General Manager, Christie Korea, added, "We're heartened that CGV has continued to place its trust in our pioneering RGB laser projection system, which has effectively demonstrated how 3D light levels, color fidelity, image uniformity, viewing comfort, and a sense of immersion can be greatly improved. The result is an unmatched cinematic presentation that not only fascinates movie-goers, but also provides confidence to cinema exhibitors in terms of performance and reliability."
Lin Yu, Vice President, Christie Asia Pacific, commented, "I would like to thank CGV for the confidence placed in our RGB laser projection system to deliver an unparalleled laser projection and viewing experience in premium large format theaters. Our RGB laser architecture has continually demonstrated the capability to provide incredible brightness, a reinforced color spectrum and an extraordinary contrast ratio that significantly improves the efficiency of 3D projection systems. We look forward to seeing more exhibitors installing them in their premium large format theaters across the region."
Anchored by the Christie Freedom® laser illumination system, the CP42LH produces a color gamut that exceeds the DCI P3 color and replicates the Rec. 2020 space, making it the most advanced RGB laser cinema projection system available on the market. It consists of rack-mounted laser modules where each module can produce up to 5,500 lumens of white light. Because of the scalability of this platform, up to 12 laser modules can be easily added, removed, activated or disabled depending on brightness requirements. This provides up to 62,000 lumens per rack. Each laser module is also independently cooled, providing built-in fault protection, improved efficiency and reliability.
Since its rollout in 2014, Christie's RGB laser projection system is the preferred choice for a premium 3D cinema experience in a number of cinema chains around the world. In Asia, theaters equipped with Christie laser projection technology include Tongzhou Wanda Cinema in Beijing, the iconic Shanghai Film Art Center, and SM Seaside City in Cebu, the Philippines. More RGB laser installations are scheduled in the region in the coming months.
About CGV
CGV, a subsidiary of CJ Group, is the largest multiplex cinema chain in South Korea. Founded in 1996, it has since expanded its presence in China, Vietnam, Indonesia, Myanmar and the United States. As of early February 2016, the cinema giant has 245 theaters containing a total of 1,825 screens in these six countries. For more information, go to: http://www.cgv.co.kr
About Christie®
Christie Digital Systems USA, Inc. is a global visual technologies company and is a wholly-owned subsidiary of Ushio, Inc., Japan, (JP:6925). Consistently setting the standards by being the first to market some of the world's most advanced projectors and complete system displays, Christie is recognized as one of the most innovative visual technology companies in the world. From retail displays to Hollywood, mission critical command centers to classrooms and training simulators, Christie display solutions and projectors capture the attention of audiences around the world with dynamic and stunning images. Visit http://www.christiedigital.com.