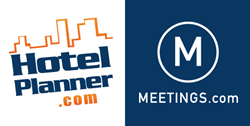 Each year more consumers and event planners are learning about the services provided by HotelPlanner and Meetings.com to help book group travel
West Palm Beach, FL (PRWEB) February 02, 2016
HotelPlanner continues to change the marketplace for groups, meetings, and event travel. Celebrating its 14th years in business, HotelPlanner and its sister brand, Meetings.com, have grown in size due to the demand of the company's premier online group travel services. With the notion geared towards delivering the guaranteed lowest rates for group hotel and meeting space, this business model has catapulted the company into a number of successful ventures for 2015. In this year alone, the company experienced a 25% growth in hotel room nights sold.
"As part of a $45 billion dollar industry, we've only begun to scratch the surface when it comes to group travel," stated Tim Hentschel, CEO of HotelPlanner and Meetings.com. "In 2015, the company established exceptional partnerships with major online travel companies, professional sports teams, and government agencies. Each year, more consumers and event planners are learning about the services provided by HotelPlanner and Meetings.com to help book group travel. Ease of use, great instant pricing and multiple hotel options really help event planners make the right decision in choosing the hotel/venue that is the best fit for their event."
Today, HotelPlanner sees over 5 million unique visitors per month. More projected visits are foreseen in the future for Meetings.com. The sites manage 2000+ meetings requests a day.
2015's highlights include:
Company Growth and Corporate Strategy

New worldwide records set in 2015 with revenue increase in both online group hotel reservations and meeting space bookings
Global headquarters grand opening in West Palm Beach, FL in early December to service the company's growth and future job initiatives
Announced several promotions within the company's senior level management team in the areas of corporate development and international sales
Doubled programming/technical staff in West Palm Beach, FL
Expanded operations across the globe
Asia headquarters in Hong Kong doubled production
Now services 23 languages and is offered in over 100 countries
Record attendance and sponsorship for American Group Travel Awards (AGTA) and the European Group Travel Awards (EGTA)
New Clients and Partnership Renewals
State of Louisiana became the newest government client, mandating the use of the company's system
Awarded 3 GSA contracts, of which includes an exclusive U.S. Communities Travel Services & Solutions Contract
Continued NFL partnerships with the San Diego Chargers, St. Louis Rams and Washington Redskins and added to our professional sports
Established partnerships in Europe with Millwall Football Club, Super League Europe Ltd, and Queen Park Rangers UK Pro Football Club
Booked and maintained event travel for 500+ Universities
Expanded youth baseball partnerships with PONY Baseball, Babe Ruth League and added the Mid America Youth Basketball (MAYB)
Capabilities and Industry Expansion
Meetings.com redesign launch
Ross Hosking joins company as President of Meetings.com, former Wyndham Hotel Group Executive Vice President
Joe Groglio appointed Chief Financial Officer of HotelPlanner, former Hertz Group Vice President & Controller
Introduced e-Contracting to the world with DocuSign
Implemented Dyn and Instart Logic Solutions to Optimize Global Online Customer Experiences
Opened extended stay and government divisions
Rolled out the first program with full flight and air
New iPhone and iPad enhancements with user-friendly group reservations technology
About HotelPlanner & Meetings.com
HotelPlanner.com provides group hotel booking services to 2,000 groups per day in the global group travel market. The company's group hotel booking service ensures the lowest rates by allowing customers to receive quotes online directly from hotel group sales managers. HotelPlanner allows customers to book hotels for business meetings, conferences, conventions, family reunions, weddings, extended stays, tours, military reunions, church events, and group travels. The company also provides mobile applications for booking group hotel reservations. The company owns and operates Meetings.com, a site that provides information and booking services for group, meeting, and individual hotel stays for the corporate and business to business enterprises. Founded in 2002, the company has offices in London, England, (European Headquarters), Hong Kong (Asia Headquarters), West Palm Beach, FL (USA Headquarters), and Las Vegas, Nevada.
HotelPlanner.com is proud to provide hotel reservation services to the following valued clients within the sports team and university, corporate, and government organizations. The company's Pro Sports Team clients most notably include the San Diego Chargers, Washington Redskins, St. Louis Rams, Professional Bowlers Association, European Professional Golfers (EuroPro), Super League (Rugby), AFC Wimbledon, Millwall F.C., and Queens Park Rangers F.C. In terms of college travel, Universities such as Texas A&M, New Mexico State, Saint Mary's College, Bradley University, University of Reno-Nevada, University of Illinois-Chicago, Northeastern University, Cal Poly, and California State University Northridge use HotelPlanner to negotiate their group travel and recruiting stays. Corporations such as CROMPCO, Siemens, Jackson Motor Sports, National Grid, Chicago Bridge & Iron, Publix, and Servpro and Government clients such as the State of Louisiana, State of Mississippi, Government Services Agency, US Marines-Camp Le Jeune (Group), and US Communities also utilize HotelPlanner.com as their hotel procurement provider to negotiate hotel rates, book hotel reservations and provide excellent service year-round.
For more information, please contact Bruce Rosenberg at (818) 661-0244 or via email at Bruce(dot)Rosenberg(at)hotelplanner(dot)com