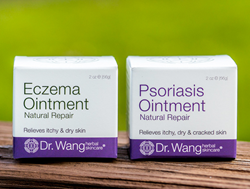 We are excited to see our research can help millions of eczema and psoriasis sufferers. Steven Wang, MD
Chatham, NJ (PRWEB) February 03, 2016
Dr. Wang Skincare, LLC, developer of novel, non-steroidal skin care products based on powerful traditional Eastern medicines and the rigor of Western science, today announced the official launch of two innovative, natural skincare ointments scientifically-formulated for millions of eczema and psoriasis sufferers.
"We often hear patients who inquire about natural and non-steroidal products for their skin," said co-founder Dr. Steven Q. Wang, a renowned dermatologist, surgeon, lecturer, and author. "Many patients worry about the side effects, such as thinning of the skin, burning and itching sensations, associated with long term, chronic use of topical steroids."
In part to meet patients' requests and also to satisfy his own research curiosity, Dr. Wang set out with his father – an expert in Eastern medicines – to formulate natural ointments which helps to provide relief from itchy, dry, and cracked skin, prevailing symptoms associated with eczema and psoriasis.
Learn more about how these non-steroidal fragrance free topical ointments work at http://www.drwangskincare.com/collections/all
"I had eczema for more than 40 years, and my doctors always prescribed steroid creams for me," said Melinda, a New Jersey resident and a long-time eczema sufferer. "When I heard that Dr. Wang came up with an herbal, non-steroid ointment that is good for eczema, I decided to give it a try. My itchiness was gone after the first day of application. I decided to use it for a week. The skin is all healed with no scales or inflammation, and especially the itchiness is gone."
Dr. Steven Q. Wang is the Head of Dermatology Section and Director of Dermatologic Surgery and Dermatology at a renowned cancer center. His father, Gui Wang, LAc, a specialist in Eastern medicine and acupuncture, has administered treatment for over 10,000 patients over four decades of clinical career. He is the Founder and Director of the New York City Acupuncture Center.
Together, the father-son team has devoted the past three years analyzing, evaluating, and formulating skin care products with proprietary combinations of natural herbs to address the needs of people with eczema and psoriasis. Both diseases can often exact significant physical, social and psychological tolls on patients and their families. An estimated one in every eight Americans suffers from eczema and psoriasis.
"I'm thrilled to create first-of-their-kind products that use natural herbs with time-honored healing properties," said company Co-Founder, Gui Wang, "Many people love the fact that these ointments are natural and contain no steroid, salicylic acid, coal tar, parabens, petrolatum or fragrance."
"Hearing great feedbacks from our patients is very rewarding. This has been a great research project," said Dr. Steven Wang. "Working closely with my dad over the last few years has been an incredibly fulfilling experience. We feel especially fortunate to have this opportunity to create something together that has the potential to help millions of people who are suffering from these debilitating skin conditions."
In addition to his medical practice, Dr. Steven Wang leads a successful clinical research program focused on photoprotection, antioxidants, nanotechnology and skin health. He has published three books and more than 85 scientific articles and book chapters in dermatology and medical journals. Dr. Wang also lectures extensively in the United States and around the world.
About Dr. Wang Skincare, LLC: Dr. Wang Skincare, LLC, is a skincare company based in Chatham, New Jersey. Founded by a father-and-son team, the company formulates novel skin care products by combining the power of Eastern botanicals with the rigor of Western sciences. To learn more about their breakthrough products visit:
http://www.drwangskincare.com/
Contact:
Steven Q. Wang, MD
Wangs01(at)DrWangSkincare(dot)com
134 Candace Lane
Chatham, New Jersey 07928
(888) 968-2347