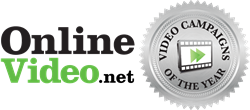 This contest, which will become an annual event, is our way of giving back and recognizing the amazing work that our readers create everyday
Medford, NJ (PRWEB) February 03, 2016
OnlineVideo.net, the leading independent destination for online video marketing strategies and tips, announces its first annual Video Campaigns of the Year contest. OnlineVideo.net's editors and writers will review hundreds of entries to determine the top online video campaigns from the previous 12 months.
Online video marketing and advertising is exploding right now, and agencies know that their campaigns need to be more creative and engaging than TV commercials if they're going to pull in the notoriously fickle online viewer. OnlineVideo.net's Video Campaigns of the Year contest is stepping in to recognize that tidal wave of creativity, rewarding video campaigns in eight different categories including consumer packaged goods (CPG), automotive, retail, and technology. It's also recognizing the best work done by small, medium, and large agencies, and well as in-house teams. Finally, because successful online video campaigns need to be customized for different platforms, the contest singles out the best work done for YouTube, Facebook, Instagram, Snapchat, Meerkat/Periscope, and Vine.
OnlineVideo.net's Video Campaigns of the Year contest is free to enter, and an online entry form is available here. Marketers can enter their work in multiple categories, but will need to submit a separate entry for each campaign. Entrants need to send a URL for the central video of the nominated campaign, and offer details about how the campaign was run and how it delivered results for the brand.
The nomination period starts today and runs until March 4th. After that, OnlineVideo.net's editors and writers will review the entrants and determine the best and most successful marketing campaign in each area. The winners will be announced on March 14 on OnlineVideo.net. Winners will be notified and will receive a framed certificate.
"Readers have made OnlineVideo.net the most trusted source of online video marketing tips and news, and we're incredibly gratified to have such an involved and informed audience. This contest, which will become an annual event, is our way of giving back and recognizing the amazing work that our readers create everyday," says Troy Dreier, OnlineVideo.net's editor.
Here is the full list of contest categories:
Product Areas

CPG
Auto
Retail
Technology
Food and Beverage
Entertainment
Travel
B2B
Agency Type

Small
Medium
Large
In-House
Platform

YouTube
Facebook
Instagram
Snapchat
Meerkat/Periscope
Vine
For more about OnlineVideo.net's Video Campaigns of the Year, visit http://www.onlinevideo.net/video-campaigns-of-the-year-2016/
About OnlineVideo.net
OnlineVideo.net is the leading independent source of online video marketing strategies and tips. Updated daily, it brings marketers the information they need most to optimize their video marketing efforts, and attract and retain customers at all stages of the marketing funnel. The site was created by the same team that runs StreamingMedia.com, the leading site for online video news, trends, and analysis.