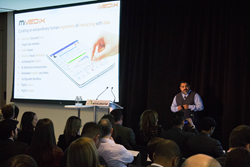 Ultimately, miVEDiX for Healthcare is helping to improve patient outcomes and value for organizations.
Pittsford, NY (PRWEB) February 08, 2016
iVEDiX was selected to join six cutting-edge digital health companies in the highly competitive New York Digital Health Accelerator (NYDHA) program this past September. Run by the Partnership Fund for New York City and the New York eHealth Collaborative, NYDHA is intended to help growth-stage healthcare technology companies develop leading-edge technology solutions around clinical workflow management, care coordination, and patient engagement. The five-month program carefully selects companies to work with the NYDHA Mentor Network of healthcare providers, institutional investors, and entrepreneurs-in-residence across New York State. These mentors share their feedback, experiences, and strategic guidance to the enrolled companies.
iVEDiX CEO and Founder, Raj Kutty, showcased iVEDiX's flagship mobile platform, miVEDiX, at the NYDHA annual Demo Day on January 21st. There Kutty stressed the significance of user experiences: "When you empower end users with the ability to easily access and interact with relevant healthcare information their data becomes intrinsically personal and engaging. With more engagement ​clinicians and caregivers will ​demand and consume ​much more data, and ​expect ​better quality and completeness of the data. Better quality drives better​ and more consistent ​clinical decisions​. Ultimately, miVEDiX for Healthcare is helping to improve patient outcomes and value for organizations."
Following the formal completion of the NYDHA program, iVEDiX plans to showcase its healthcare solutions at the annual HIMSS16 Conference in Las Vegas. The event will be held from February 29th through March 4th at the Sands Expo and Convention Center. In addition to hands-on workshops and product demos, iVEDiX will be hosting presentations on topics such as: improving clinical health information access, optimizing the physician/patient experience, enhancing the value of clinical quality metrics, and utilizing public health analytics to save lives.
About iVEDiX
iVEDiX is an innovative leader in mobile visualization, analytics and workflow products focused on creating an extraordinary user experience interacting with data. It's miVEDiX for Healthcare platform is a highly configurable, intuitive, and interactive; providing clinicians with easy health information access, workflow optimization, clinical quality analytics, and decision support. The product seamlessly integrates with existing data infrastructures and gives users access to their data directly from their mobile device. The platform combines rich visualizations, sophisticated interface options, and real-time updates to deliver an immersive data discovery experience. To learn more, visit http://www.ivedix.com.