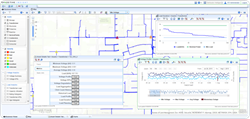 San Mateo, CA (PRWEB) February 02, 2016
Space‐Time Insight the leading provider of situational intelligence solutions, today announced the availability of version 2.0 of its Distribution Intelligence application. Distribution Intelligence provides on-demand visual analytics and network optimization at the grid edge to help utilities transition to a world of distributed energy resources (DER).
Electricity distribution utilities are facing accelerating disruption with the increasing customer adoption of distributed energy resources such as residential and community solar, energy storage devices and electric vehicles. To thrive amid this disruption, utilities need more-effective approaches to maintain acceptable voltage levels, prevent transformer overloading, manage distributed generation and drive capital efficiency.
Distribution Intelligence is a software application that uses advanced analytics to help utilities:

Optimize peak demand reduction on feeders with DER penetration
Determine potential of capital investment deferment for feeders with DER penetration
Optimize transformer loading and capacity utilization
Gain insight into voltage and power quality issues down line from a substation
For example, with Distribution Intelligence, utilities use local solar power output, demand response and energy efficiency to lower demand on an aging substation, instead of spending additional capital on substation upgrades.
"Nearly all distribution utilities expect significant market disruption from distributed energy resources," said Ajay Madwesh, vice president of utility business solutions, Space-Time Insight. "The advanced analytics of Distribution Intelligence gives utilities the context and insight they need to future-proof their business during the transition to new business models."
Distribution Intelligence integrates with a wide range of utility systems that are vital to ensuring distribution reliability. The application is commonly implemented in a matter of months for rapid impact on distribution reliability, power quality and support of distributed energy resources.
Experience Distribution Intelligence 2.0 live by visiting booth 2027 at DistribuTECH, February 9-11 in Orlando, Florida.
View a video demonstration of Distribution Intelligence at http://bit.ly/1nAWvjq
About Space-Time Insight
Space-Time Insight liberates companies in asset-intensive industries from a fragmented view of the big picture, providing the context and clarity they need to make fast, confident decisions. Using spatial, temporal and nodal analysis, our IoT-ready real-time visual analytics applications illuminate the what, where, when, why and how of every asset and situation. Space-Time Insight's award-winning situational intelligence software powers mission-critical systems for some of the largest companies around the world, including eight of the twenty largest US utilities. We partner with leaders in the industry including Accenture, Esri, IBM, NEC, OSIsoft, SAP, Siemens and Unicorn Systems. Space-Time Insight is privately held and based in San Mateo, CA. For more information, visit http://www.spacetimeinsight.com. Space-Time Insight is a registered trademark of Space-Time Insight Inc.