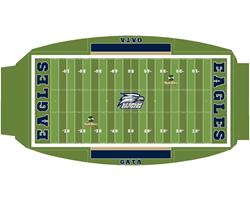 We chose Shaw because they are a world-class manufacturer based in Georgia and can provide our athletic program with the best playing surface available.
Statesboro, GA (PRWEB) February 02, 2016
Shaw Sports Turf was announced today as the provider for the new playing surface for the field at Allen E. Paulson stadium, according to Georgia Southern athletic officials,
The new field will feature Shaw Sports Turf's Legion system. Legion's dual-fiber technology combines slit film and monofilament fibers. The aesthetic elements that make the field look like a natural surface,The slit film fibers are extremely durable and can stand up to the demands of a program like Georgia Southern. The monofilament fibers are resilient and remain upright, giving the field the aesthetic elements that make the field look like a natural surface.
"We chose Shaw because they are a world-class manufacturer based in Georgia and can provide our athletic program with the best playing surface available, said Tom Kleinlein, Director of Athletics at Georgia Southern. "The Legion system gives us the durability and looks that are consistent with our top-notch athletic facilities."
Georgia Southern has a storied football program, having revived the program in 1981. Since then, the Eagles have won10 Southern Conference titles, and six FCS National Championships. In 2014, the Eagles won the Sun Belt Conference in their first year as an FBS program. In December 2015, he team won the GoDaddy Bowl against Bowling Green.
The program is preparing for its first season under new coach Tyson Summers. The team will prepare on the new field, which will be completed in mid-April and will then look to summerto ready the team for the 2016 season.
Like all summers in Statesboro, it will be hot. Shaw Sports Turf has introduced a patented cooling technology which will allow the players to play and practice in a more comfortable environment.
When athletes sweat, evaporative cooling takes place when evaporation of moisture from the skin's surface has a cooling effect. HydroChill works on the same principle. As the turf surface is heated by solar radiation, moisture stored in the turf is released, leaving a cooler, more comfortable surface for athletes.
The technology is applied to a field where components react and form a coating on the infill. The field is watered to activate HydroChill and then energy from sunlight drives out water, removing heat from the surface. The cooling effect of HydroChill after watering can last two to three days. Watering alone can result in some short-term cooling, but a flash-effect means temperatures can rise and quickly exceed uncomfortable levels of heat. HydroChill creates a substantial and sustained temperature difference.
HydroChill provides maximum benefit when the sun is nearest the Earth. During the summer months the sun is positioned overhead, causing surfaces to absorb more energy, resulting in hotter temperatures. Temperature differences of 50 degrees have been seen on an outdoor field. Studies have shown that temperature differences of over 30 degrees provide a noticeable increase in the comfort level of athletes.
The research behind HydroChill was extensive and was conducted for three years, both in laboratory tests and in real-world field applications currently in use by athletes. Shaw Sports Turf's testing facilities include an entire lab dedicated to the study of heat on turf. It houses a custom-built solar simulator with a watering mechanism that simulates rainfall so testing can be conducted on a year-round basis. Tests on a variety of outdoor surfaces were conducted with thermocouples, an Infrared thermometer and by a certified thermographer with a Forward Looking Infrared (FLIR) camera.
Chcuk McClurg, Vice President of Turf Markets at Shaw, played on two national championship teams with the Eagles.
"My years at Georgia Southern were among the best in my life and being a part of the team has afforded me many opportunities," said McClurg. "I am proud that I am able to be a part of providing the team with the finest playing surface in the world and wish them many years of success on their Shaw Sports Turf field. Go Eagles!"
Shaw Sports Tuff has installed over 2,000 fields, including game and practice fields for the Baltimore Ravens, Arkansas Razorbacks, Vanderbilt Commodores, and Furman Paladins.
The Eagles will will open the season against Savaannah State on September 3.
ABOUT SHAW SPORTS TURF
A wholly-owned subsidiary of Berkshire Hathaway Inc., Shaw Industries is a full flooring provider to the residential and commercial markets. Shaw supplies carpet, hardwood, laminate, resilient, and tile/ stone flooring products, as well as synthetic turf. Shaw Sports Turf is one of the leading synthetic turf companies in North America and has represented quality and innovation for more than two decades with over 2,000 successful installations, including an impressive list of high-profile field installations. For more information please visit http://www.shawsportsturf.com, call 866-703-4004 or find us on Facebook.