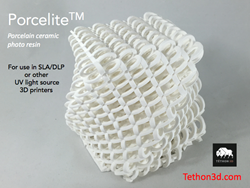 Porcelite Ceramic Resin Expands the 3D Printer Materials Market
Omaha, Nebraska (PRWEB) February 02, 2016
Tethon Corporation Inc. ("Tethon 3D") , a leader in ceramic 3D printing, announces the launch of its Kickstarter project: Porcelite Ceramic Resin for SLA/DLP 3D Printing. Now, individuals using 3D printers with a UV light source, have the option to print in a true porcelain ceramic material.
"We developed Porcelite to provide a ceramic material for the growing market of UV light source desktop 3D printers," says Karen Linder, President and CEO of Tethon 3D. "Porcelite is a photo-cured resin material that fabricates a solid ceramic composite straight from the 3D printer. If desired, it can be fired in a kiln, resulting in a 100% porcelain object suitable for glazing or other traditional ceramic finishes."
The purpose of the Kickstarter campaign is to assist Tethon 3D with manufacturing, bottling, packaging and distribution of this new material directly to the consumer.
Ceramic 3D prints produced by SLA/DLP technology show high-resolution details, are heat shock tolerate and thermal and electrical insulating. They are durable, nonmagnetic, and oxidation resistant.
"In addition to its technical qualities, Porcelite produces beautiful pieces that are a pleasure to view and hold," adds Linder.
About Tethon 3D
Tethon 3D manufactures Tethonite ceramic powder, binder and other supplies for 3D printing. The company also provides service in 3D modeling, scanning and ceramic 3D printing, as well as 3D printing educational workshops and a residency program. Additionally, the company is active in materials development in ceramics and other composites for use in SLA/DLP 3D printing.
The Tethon 3D facility is located in Omaha, NE. The company holds intellectual property in ceramic materials and 3D printing hardware. For more information on Tethon 3D, visit http://www.tethon3d.com.
Except for statements of historical fact, all statements in this press release, including, but not limited to, statements regarding future plans, objectives and payments are forward-looking statements that involve various risks and uncertainties.
SOURCE Tethon Corporation Inc.
For further information: Karen Linder, President & CEO, Telephone: (402) 639-2446.