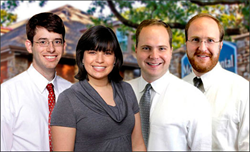 That is a big part of what inspired us to create our own dental plan for patients without access to dental insurance.
Bessemer, Al (PRWEB) February 03, 2016
Birmingham area patients have responded very positively to McCalla Dental's Smart Dental Plan, which allows them to obtain the dental treatment they need even if they lack dental insurance. Insurance such as that which would be traditionally offered by an employer in an employee benefit package. "We are honestly passionate about dental care," said Dr. John Poczatek. "Oral health contributes in a real way to a patient's overall health and wellness. That is a big part of what inspired us to create our own dental plan for patients without access to dental insurance. For us, it is personal. We care about our patients, they are an extension of our family."
Smart Dental Plan Gives Patients Access to Year-Round Dental Care
The Smart Dental Plan is a discount plan that gives 20% off of treatment fees for most services, including: bridges and crowns, dental implants, fillings, tooth extractions, dentures, root canals and periodontal cleanings. The Smart Dental Plan includes two exams and routine cleanings each year for each member. The plan also provides some highly beneficial ancillary services such as the annual exam X-rays, fluoride treatments and high-tech oral cancer screenings at no additional cost. The Smart Plan can be used to reduce the cost of dental care for both cosmetic and routine services such as fillings and dentures—however, it does not include some services such as Invisalign or All-on-4® implant-supported dentures.
The plan has no maximum yearly coverage limits and no deductibles, waiting periods or missing tooth clauses that rule out the replacement of missing teeth.
Once enrolled, members do not need to carry a card, as all of their information is kept in their electronic records at the dental office. A membership costs $25 per month for the first family member, with an additional $20 per month for every family member thereafter. Patients also have the option of paying for the entire year and saving $50 for the first member and $40 for each additional member. The plan lasts one year from the date of registration.
Those who are interested in the Smart Dental Plan can contact the office during normal business hours at: (205) 477-4242. Appointments can also be requested online at http://www.mccalladental.com
About McCalla Dental
Noted for their exceptional dedication to quality, affordable dentistry, McCalla Dental was first established in 2007 by the two Poczatek brothers, Dr. Ted and Dr. John, both graduates of the highly respected UAB School of Dentistry. The practice later expanded to include Dr. Wendy Poczatek, the wife of Dr. John, as well as their friend and colleague, Dr. Holt Gray, a leading specialist in restorative dentistry. As the practice has grown, they are currently expanding to meet the needs of their patients. With this expansion, yet another partner was added. Dr. Jake Nolen also studied at UAB and is well-trained in surgical procedures related to dental implants.
McCalla Dental has a history of community outreach, having provided volunteer services to the "Give Kids a Smile" and "Foundry Rescue Mission and Recovery" programs. Additionally, they have donated dental makeover services for those impacted by storms and tornadoes.
To learn more about McCalla Dental, visit http://www.mccalladental.com