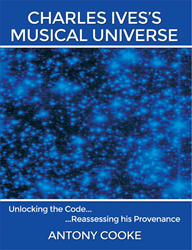 As the largest and most comprehensive resource of its kind, the journey initiated long ago by Baron and Lambert continues…. Many of the intimate structural processes that Ives developed … can be isolated.
(PRWEB) April 26, 2016
One of the most comprehensive technical analysis of Charles Ives's musicality is revealed in Charles Ives's Musical Universe—Unlocking the Code … Reassessing his Provenance," a new book by Antony Cooke, who has been studying the musician for nearly fifty years now. A former associate professor of music at Northwestern University and an acclaimed solo cellist, Cooke scrutinizes Ives's works for tangible systematic processes—the structural "code"—that have eluded or have been lacking in previous scholarly studies. Finally, Cooke's research has unravelled with technical precision the genius of Ives. The book is regarded a ground-breaking academic resource on Ives's works from Variations on America to the Universe Symphony.
Charles Ives is a unique talent in the annals of music, emphasizes the author, who is also a major Hollywood studio musician and a published composer. The landmark book takes off from previous scholarly successes of Carol K. Baron and Philip Lambert who identified some of the systematic methodologies in Ives's compositional language, as well as from the author's previous book, Charles Ives and His Road to the Stars, where the reader is introduced to Ives's music.
In this second volume, the author identifies the detailed structural processes that Ives developed throughout his career, from his early works to his masterpieces, and assumes the reader has intimate understanding—and appreciation—of Ives's musical genius.
Some of the highlights of the book include:

Musical analyses specific to an Ives composition
A discussion on Ives's borrowed melodic quotes
Personal versus cosmic emotional influences in Ives's music
Biography of the musician
The book takes a contrarian view to Bernard Herrmann's assumption forty years ago that Ives's musical methodology is a mystery. It isn't, said Cooke, and he proceeds with precision analyses of Ives's musical works that previous scholarly studies have left untouched or approached with indifference by other musicians, unable to grasp the genius's real musical talent. For decades Ives's compositional methodology is taken as a type of rhapsodic improvisatory facility because of their complex and free spirit leanings, but the author reveals the tangible creative skills underlying the genius's compositions, including his ability to control musical sounds with systematic consistency in their structural foundation to elicit a wide range of emotions. Not necessarily personal, the emotions in Ives's music, the author says, dwells in an infinite cosmic realm. It's a unique talent throughout the history of music, Cooke emphasizes, a feat he wants readers to take to heart.
Title: Charles Ives's Musical Universe—Unlocking the Code… Reassessing his Provenance
Author: Antony Cooke
Genre: Music/History & Criticism/General
ISBN: PB-978-1-4958-0477-9; HB-978-1-4958-0476-2
eISBN: 978-1-4958-0681-0
8.50 x 11.00 Hardcover Glossy, Standard Color, white paper
Pages: 582
Publisher: Infinity Publishing