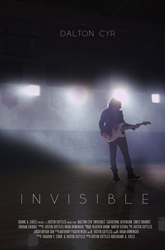 "I wanted to tell the story of what it's like to feel invisible while also inspiring hope and courage especially in situations where sometimes people they have none."
Jacksonville, FL (PRWEB) February 03, 2016
Recording artist and actor Dalton Cyr in conjunction with film producer Duane A. Sikes released a new music film in celebration of releasing his new single "Invisible", the debut single from his upcoming third album, following a premiere screening at the San Marco Theatre in Jacksonville, FL on Sunday, January 31st.
The song, written by Dalton Cyr with co-writers Stefani Scovolo and Gerry Stober in Los Angeles quickly became a fan favorite with Cyr performing it live while on tour this past summer. Fans have been moved by both the visuals in the video and the lyrics including the words, "Invisible is just a word, but that don't change how much it hurts."
Cyr who describes himself as a storyteller and has a reputation for inspiring hope in people, says, "I wanted to create a music video in time for Valentine's Day that speaks to the people who feel left out. I wanted to tell the story of what it's like to feel invisible while also inspiring hope and courage especially in situations where sometimes people feel they have none."
Cyr approached screenwriter Sharon Y. Cobb, who also scripted the movies June, Return of the Sweet Birds, and On Hostile Ground and authored the book False Confessions of a True Hollywood Screenwriter to script the music video. He says, "When we met to discuss my vision for the project, I told Sharon I wanted the story to create a powerful message for people—to give them hope even if or when they feel invisible."
Cyr, a native of Jacksonville FL, reached out to Cobb while working in L.A. He says he sent her the song and asked her if she'd like to be a part of the project. "Sharon had a really awesome idea for the video that I loved." However, the idea required special effects so Cobb put Cyr in contact with director Justin Suttles who she knew could create the desired effect.
A meeting took place in September with Cyr, Cobb, Award-Winning director Justin Suttles, who directed Hominid and co-produced the feature length documentary The Strangers Project, and a well-known producer Duane A. Sikes, who has produced over 65 movies and TV shows across the country. Sikes agreed to be the executive producer for the "Invisible" project and planning commenced.
Cobb says she was excited to work on a project with Cyr, who is making waves in L.A. having landed his first lead in a TV pilot last spring and who is a supporting lead in the upcoming film, "Time Toys" due out in 2016 which will also feature two of Cyr's songs. Cobb says, "The first time I saw Dalton perform live, I was impressed by his musical talent but also by the deep connection he has with his fans. He has a unique gift for empathic bond driven by a sincere care for others. He feels our pain, our joy, our love and all of that shows up in his music, his words and his songs."
The video was shot on location in Jacksonville, Florida with cast and crew from Florida and Georgia. Cyr who frequently recognizes fans' support held a contest where fans could submit photos of themselves that would be used in the video. Five winners were randomly chosen: Sean Young (Singapore), Gaby Martinez (Jacksonville, Florida), Brianna Hart (Pocahontas, Arkansas), Hanna Hadzic (Jacksonville, Florida), and Mackensie Henderson (Williston, Florida). Winners were also invited to a private dinner with Cyr and the "Invisible" cast and crew at The Florida Yacht Club and gifted a commemorative DVD with the extended film version of the video, the radio edit, behind the scenes footage and slide show, and commentary by Director Justin Suttles and Artist Dalton Cyr.
An "Invisible" Premiere Screening took place from noon to 2:00 PM on Sunday, January, 31, 2016 at the San Marco Theatre in Jacksonville, FL. After the screening, Cyr held a Q & A, took photos and gave autographs to fans during a meet-n-greet, and gave out souvenir memorabilia to fans.
View the extended "Invisible" Music Film The radio edit will soon be available on VEVO and on such channels as MTV, Nickelodeon, and in retail outlets across the U.S.
For more information visit http://www.daltoncyr.com