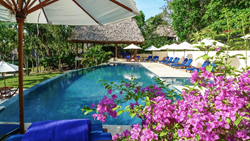 one of the things that sets Chaa Creek apart is that it grew organically and over a period of time
San Ignacio, Belize (PRWEB) February 04, 2016
The Lodge at Chaa Creek has a new general manager, and, in keeping with the popular Belizean eco-resort's unique history and evolution, Bryony Fleming Bradley is a member of its founding family, born and raised at Chaa Creek.
In January 2016 Ms Bradley took over the GM position of the family business from her mother, Lucy Fleming, who, with husband Mick, started Chaa Creek as a small farm on the banks of Belize's Macal River in the late 1970s.
The Flemings opened Chaa Creek as one of Belize's first eco resorts in 1981, just as Belize achieved independence from Great Britain. Beginning with a few one-room, thatched-roofed cabins built from materials found in the surrounding jungle, Chaa Creek's friendly, family ambience and green philosophy struck a chord with travellers, and the resort grew in leaps and bounds over the years, Ms Bradley recalled.
The Lodge at Chaa Creek is now one of Belize's most well known and highly regarded eco resorts, offering a wide range of accommodations, amenities and activities that has earned it the reputation among travel industry professionals as Belize's "destination within a destination."
"When my parents first started Chaa Creek, no one had any idea that Belize, let alone our little farm, would grow to become so popular," Ms Bradley said. "Like most people in the area, we were just trying to get by and enjoy a healthy, more natural lifestyle. Little did we know that Belize's natural beauty, Maya temples, Caribbean seacoast and other attractions would appeal to so many travellers.
"Looking back, I guess it isn't all that surprising," she added.
Both Mick and Lucy Fleming agreed that Chaa Creek's rise as a preeminent Belizean destination was the result of hard work, cooperation, passion for the environment and a splash of good luck.
"I think one of the things that sets Chaa Creek apart is that it grew organically and over a period of time, rather than as a corporate entity driven by a bottom line," Lucy Fleming explained, "Ever since we began, Mick would always work around a tree rather than remove it, and everything; the cottages, paths that later became roads, the amenities and everything else were designed to coexist with the natural surroundings. You see the results of that today, and I think it's something our guests appreciate."
Ms Fleming explained that today's Chaa Creek reveals the various family members' interests.
"I always loved the arts and crafts that reflect the local culture, and have been fortunate in being able to design and furnish each room and suite. Bryony and I would often travel to inland and highland Guatemala to find antiques and beautiful artwork that blended with Belize's own distinctive melting-pot culture. Mick and our son Piers' interests are reflected in the mountain bike and horseback riding trails, canoe and furniture shops and other areas. It truly is a family effort, and people seem to respond to that.
Bryony added that, "Chaa Creek was my world while I was growing up, and since we were hosting guests from all over the globe it was always very lively and interesting. And without realising it, my brother and I were getting an education in hospitality and customer service at home while attending local schools. My mother, father, brother and I, along with our adopted siblings, all pulled together and supported each other in realising our individual goals and dreams," she said.
When Bryony developed an interest in beauty, wellbeing and aesthetics, her family worked with her to establish the Hilltop Spa, which has since grown to become an internationally recognised, Gayot's Guide-recommended full-service Spa.
"I was young, but knew what I wanted to do, and with my hospitality and business experience, had the confidence and support to give it a go," she said.
As the Hilltop Spa grew in service and reputation, Chaa Creek was expanding, with an infinity pool, Belize Natural History Museum, Butterfly Farm, fine dining farm to table restaurant, lounge, conference centre, stables, miles of trails crisscrossing a 365 acre private nature reserve, fleet of canoes, a Maya organic farm that supplies the restaurant and Guava Limb Café, a Maya Medicinal Plant Trail, a growing number of tours and expeditions, and more.
"The beauty of a family business is that we all have something to do with every aspect of the business, so it's very multidisciplinary. My husband Emil is a former police officer from the area, and he's brought along a range of skills that has enhanced our security and contributed to other parts of the business. So when my mother decided she wanted the time to pursue other interests, I was well positioned to take on the general manager's duties," Bryony said.
What's does the future hold for Chaa Creek under Ms Bradley's stewardship?
"I don't think our guests, staff members or industry colleagues will notice any great changes," she said. "We've all been working together for so long that it's become second nature to help each other out and give advice that, as with any family, is sometimes asked for and sometimes not," she smiled, "But seriously, having my mother, father and brother so close does give me confidence that we'll continue to provide the same level of quality and service Chaa Creek has become known for.
"The travel and hospitality industry is very dynamic and at times volatile, which makes it challenging but also very exciting and rewarding. Being general manager of Chaa Creek and working with so many truly wonderful people is a dream job, and I'm looking forward to the future in a big way," Ms Bradley said.
The Lodge at Chaa Creek is a multi award winning eco resort set within a 365-acre private nature reserve along the banks of the Macal River in Belize.
ENDS