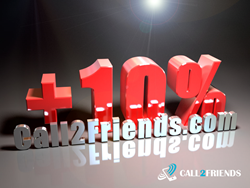 When funding the account in February, the user receives 10 percent more money on the balance.
(PRWEB) February 19, 2016
The concept of internet calling has picked up over the years. Call2friends.com has tried its best to make sure that this technology is used in the best possible way. This is used entirely for the benefit of customers and users. With this kind of a vision, they have always strove to make sure that every single individual who has access to an internet connection is able to make cheap calls to international destinations.
Now, everybody knows how expensive mobile phone calling is, especially the long distance calls. These international calls can be really heavy on anyone's pocket in this era of ever-increasing inflation. This is the reason why people hesitate to call their loved ones who are living abroad. They worry about the overall expense and fail to enjoy the benefits of the technology. This is why call2friends.com has come up with such an inexpensive way of communicating with loved ones and friends.
As call2friends is trying to expand its reachability, more and more people are trying to use their website. And treading on the same track, they have no intention to stop as of now. Therefore, coming this February, they have planned to launch a promotion for users which will further encourage them to make cheap calls all over the world, without worrying about money at all.
When funding the account in February, any user receives 10 percent more money on the balance. In simple terms, this means the clients will be able to make more calls for the same amount of money. So, they will be able to make free calls to their loved ones living abroad.
To avail this free gift, all of need to do is create a free account on the website and add funds. So, hurry up people, create account and start calling and this February.
Reference:
Call2friends is a reliable telephone service that allows to make budget calls using VoIP technology.
call2friends.com