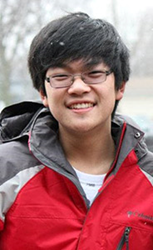 "His passion for learning and helping others is incredibly inspiring. There's no doubt that Philip exhibits the values that the All Rounder Scholarship stands for, and we couldn't be happier to have him be the first recipient of this award."
(PRWEB) February 03, 2016
California-based ticket broker Barry's Ticket Service today announced the winner of its 2015 All Rounder $3000 scholarship contest. The winner is Philip Ma of Troy, Michigan, an undergraduate student studying biochemistry and psychology at the University of Michigan.
Each applicant was tasked with writing an essay illustrating what makes them a well-rounded student both in their curricular and extracurricular lives, and displaying how they've contributed to their school and local communities. Philip's essay detailed the hard work that goes into maintaining a 3.9 GPA in such a tough field, while still finding time to volunteer at a local psychology research facility and the MedRehab physical therapy clinic in Ann Arbor. He states in his essay, "I worry about my loved ones, my friends, and even those strangers around me. I want to be able to do anything in my power to help those in need and stabilize the fragile lives around me." It was sentiments like that which made him an obvious choice for the All Rounder Scholarship.
"I was blown away by the compassion in Philip's essay," said Chris Cabrera, CDO of Barry's Ticket Service. "His passion for learning and helping others is incredibly inspiring. There's no doubt that Philip exhibits the values that the All Rounder Scholarship stands for, and we couldn't be happier to have him be the first recipient of this award."
When asked what winning this scholarship means to him, Philip replied, "Winning, to me, does not just mean that I get money towards my education… winning this scholarship validates my goals and aspirations. Barry's Tickets is telling me that what I am trying to achieve is meaningful and this fills me with determination. The support that I have received from Barry's Tickets is not only monetary, but also moral."
For more information on Barry's Ticket Service All Rounder Scholarship and to consider submitting an application for 2016 please visit https://www.barrystickets.com/scholarships/
About Barry's Ticket Service:
Barry's Ticket Service Inc. and Barrystickets.com have been providing hard-to-get and premium tickets to their clients for all major worldwide, national, and local events for over 20 years. As an upstanding member of the National Association of Ticket Brokers (NATB), reliability and accountability are cornerstones of their business philosophy. BarrysTickets.com is an online ticket provider for all sports, concert, theater, and exclusive event tickets. You can contact them by phone at 866-708-8499, by email at info(at)barrystickets(dot)com, or online at http://www.barrystickets.com.