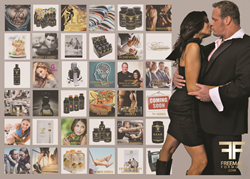 Representing high-quality products like Freeman Formula at these shows helps us interest purchasers and gives us credibility
Boca Raton, Fla (PRWEB) February 03, 2016
The executive team from Nutritional Products International (NPI), a company devoted to the global distribution and marketing of nutritional and cosmecuetical products, announced that it was successful in building some important new connections for the Freeman Formula product line at the 2016 ECRM Diet, Vitamin & Sports Nutrition conference in Las Vegas, Nevada.
This specific ECRM trade show gave Freeman Formula a chance to connect with some of the most influential retail buyers in the world. NPI's executives report outstanding performance at the event and are very positive about the potentials.
Freeman Formula products were really well received and the majority of the accounts at the show expressed a high level of interest for the brand according to NPI executives.
Jeramy Freeman, a long-time nutrition industry guru, began formulating everyday solutions for busy men and women who care about their health, image and success. Freeman Formula products provide nutrients to fuel busy professionals and maintain energy during their day, enhance their workouts, maximize their body's capacity to burn calories, increase metabolism, strengthen bones and cartilage and much more.
Their products include supplements and a number of other nutritional shakes in flavors like dream orange creamsicle, ultimate chocolate indulgence, passion peach mango and caramel café.
Representing high-quality products like Freeman Formula at these shows helps us interest purchasers and gives us credibility NPI Executives said.
Freeman Formula supplements are raw and organic, vegan and have a high energy yield.
To learn more about Freeman Formula and its products, visit http://www.freemanformula.com. To find out more about NPI visit http://www.nutricompany.com