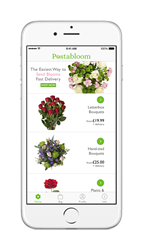 Customers pick a bouquet on their iPhone, enter their recipients address and preferred dispatch date and our partner Royal Mail delivers the flowers by 1st class post
Poole, Dorset (PRWEB UK) 2 February 2016
With Valentine's Day fast approaching, cupids up and down the land are starting to plan how they can display their affection for their loved ones. In recent years, Valentine's Day has become big business. Last year alone, Valentine's related spending was said to have exceeded £1.3 billion.
Since the first recorded Valentine's card was sent by the then imprisoned Duke of Orleans in 1415, Valentine's Day has become a global industry with more than 80 million roses now sold worldwide each year. Technological developments have also played their part in keeping Valentine's Day relevant in the 21st century as shoppers move from the high street to the mobile phone app.
The new Postabloom app launches today in time for Valentine's Day on 14th February. The app is available exclusively via the App Store and is aiming to keep the art of romance alive. Through the app, UK romantics can send stylish hand-tied bouquets, letterbox flowers and a range of beautiful plants to their loved ones. Flowers are purchased and sent direct to the recipient from the convenience of an iPhone in just a few taps.
Postabloom's flowers are posted in safe, secure and innovative flower boxes, ensuring that delicate flowers arrive in first class condition. Every bouquet is offered with an optional free personalised card designed by Postabloom's talented team of in-house designers.
"Postabloom's range of romantic bouquets have been handpicked by our team of creative florists and we have designed a flower delivery service which lets you easily buy high quality flowers on the go in less than 60 seconds and have them delivered in letterbox-friendly packaging." comments Stephen Homer, managing director at The Postsnap Group, the developer of the Postabloom app. "Customers pick a bouquet, enter their recipients address and preferred dispatch date and our partner Royal Mail delivers the flowers by 1st class post" added Mr. Homer.
Valentine's Day sales are projected to be even higher than ever this year with more of us choosing to use the ease and speed of buying yet another product via the smart phone. Postabloom is aiming to meet this growing demand with their intuitive, easy to use app.
"People love buying flowers but with our busy lifestyles it's sometime difficult to find the time to visit the local florist and card shop or it can be painful to log on and use a website on a mobile device. We wanted to offer another convenient way of buying flowers on the go, for example, in a coffee shop or on a train – basically from anywhere with a data connection," said Mr. Homer. "Sending flowers should be fun and easy and our iPhone optimised app now delivers a seamless flower and card gifting experience" he added.
Postabloom's new range includes:

Letterbox bouquets of fresh flowers posted in unique, letterbox friendly boxes that fit though most standard letterboxes
Large hand-tied bouquets to really wow family and friends – boxes packed full of beautiful flowers
A stunning range of plants and seasonal flowers
Postabloom's range of bouquets start at just £19.99 plus postage and can be purchased with Apple Pay, PayPal or Debit/Credit card.
More information is available at http://www.postabloom.co.uk