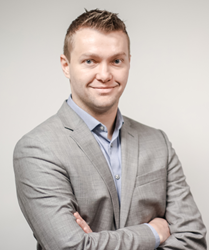 With so much regulatory uncertainty in the receivables management industry right now, it is important for companies' processes and vendors to be agile and transparent
Cedar Falls, Iowa (PRWEB) February 04, 2016
Data company, LocateSmarter, announced their Senior Director of Client Strategy, Chance Hoskinson will speak at the 19th Annual DBA International Conference in Las Vegas on Thursday, February 11.
Hoskinson is one of three panelists in the Thursday session, "Increasing Recoveries through New Technologies." He will be accompanied by Chris Metaxas of the Digital Recognition Network and Ohad Samet from TrueAccord.
"With so much regulatory uncertainty in the receivables management industry right now, it is important for companies' processes and vendors to be agile and transparent," Hoskinson commented. "During my portion of the session, I will be discussing the technology behind LocateSmarter's custom phone append product, Movali, and how our newest enhancement allows users to see in real-time how the removal, addition or re-arranging of data sources can impact performance metrics."
LocateSmarter will also be exhibiting at the conference which will be held at Aria Casino & Resort. Conference attendees are welcomed to stop by booth 209 to learn about LocateSmarter's data solutions and future enhancements.
For more information on the DBA International Annual Conference, please visit http://www.dbainternational.org.
About LocateSmarter®
LocateSmarter, LLC., a subsidiary of CBE Companies, was formed in 2012 with a mission to deliver next generation, cloud-based skip trace solutions for accounts receivable management and collection purposes. The company developed an online application focused on providing quality consumer data and a patented process that connects its users to multiple data providers and data sources.
LocateSmarter's key values include:

Increasing regulatory compliance and operational efficiency by focusing on data quality
Providing measurable data so businesses can make educated decisions about their skip tracing strategies
Ensuring that businesses are able to quickly adapt and customize their products/processes in order to comply with government regulations and client requirements
For more information on LocateSmarter and its products, please visit http://www.locatesmarter.com or call 888-254-5501.