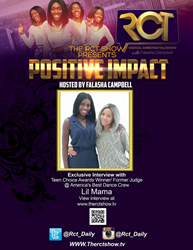 To be big in the spiritual realm is HUGE, to me!~Lil Mama
New York, NY (PRWEB) February 02, 2016
Radical Christian Talk (RCT), hosted by Executive Producer Falasha Campbell, is a groundbreaking, engaging show that focuses on the issues and stresses of daily life with a uniquely Christian perspective. Featuring candid, open-ended questions, and discussions with local pastors and young humanitarians, RCT also presents developing news stories, hot topics, and other items of interest to the Christian community at large. The first episode of this new series welcomes recording artist Lil Mama, who shares how she became an uplifting role model for our youth.
In an exclusive interview with Positive Impact, Lil Mama discussed her experience overcoming severe adversity in her life, through her steadfast faith and devotion to hope. Through her difficult New York City upbringing as the oldest of eight children, Lil Mama expressed herself through music, dance, and poetry, and continues to be a positive voice for young people. She completed her first album while her mother was dying of colon cancer, and continues to make a strong impact today, appearing on a panel at the W.E.A.L.T.H. Experience in Miami, and her latest release, Sausage, underscores her dedication to empowering the next generation. Stories like these emphasize the power of Christian faith, and encourage viewers to draw strength from those who appear on the show to impart their messages of accomplishment and "paying it forward".
The RCT segment, entitled "Positive Impact", will explore the selfless contributions of dedicated individuals, who are fulfilling their own sense of purpose and belonging, by improving and elevating the lives of those around them. RCT is looking for people who have accomplished the challenging goal of changing others' lives for the better, demonstrating the power of a single person to create lasting, "positive impacts" on those they meet in everyday life. This amazing opportunity to tell your story to the world, reaffirming the Christian precepts of neighborly love and community service, is available now to anyone with a moving, compelling human-interest tale. Interested participants must live in the New York City area, and if chosen, will go before the cameras for a one-on-one interview with the hostess.
In a world beset by violence, fear, hatred, and uncertainty, RCT and its new Positive Impact segment are a ray of light and hope, bringing encouragement and faith to the Christian community and all of humanity at large. During this joyful Holiday season, the show's uplifting message brings spiritual energy and thought-provoking commentary right into your home.
For media inquiries, or to submit your own "positive impact" story for consideration, contact Ernest Jackson of MNS Media Group.