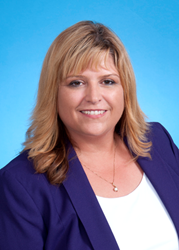 I am excited to join a growing organization like SCCU.
Melbourne, FL (PRWEB) February 04, 2016
Space Coast Credit Union is pleased to announce the appointment of Linda Hart as its Vice President of Human Resources. As a key member of the executive team, Hart will work closely with SCCU's leadership to advance the credit union's mission of creating value in cooperative ownership by recruiting, training and developing the best employee talent.
"Our commitment to excellent service begins with smart people, doing smart things," said Doug Samuels, President and CEO of Space Coast Credit Union. "Experienced, caring professionals working under the direction of exceptional leaders will differentiate our Members' Watchdog brand of protection in the competitive financial services industry."
Hart joined SCCU in November 2015, and brings more than 15 years of Human Resources experience. Throughout her career, Hart has been responsible for overseeing training and development, managing employee performance, recruiting and retaining professional talent, and coordinating benefits and compensation campaigns in an effort to maintain a strong, dedicated group of professionals. Her most recent experience includes working as a HR Business Partner at a Melbourne based manufacturing firm, MC Assembly, and serving as the HR Director at DRS Tactical Systems, Inc. a division of DRS Technologies, Inc.
According to Hart, "I am excited to join a growing organization like SCCU. A top priority for HR in 2016 will be attracting, developing and retaining employees with the core values needed to succeed in our performance-driven culture."
A Rollins College graduate, Hart holds both an M.A in Human Resources Management and a B.A. in Organizational Behavior.
--
Space Coast Credit Union was chartered in 1951 and is headquartered in Melbourne, Florida. The Credit Union serves over 300,000 members with assets of over $3.4 billion through a network of 58 branches and over 100 ATMs located throughout Florida and through its web site, SCCU.com. Space Coast Credit Union is open for membership to anyone who lives or works in the fourteen Florida counties it serves. Visit [SCCU.com/Careers to learn more about what SCCU has to offer and view a list of current job openings in each department.
###