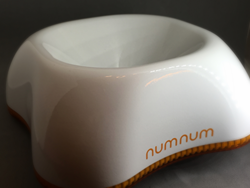 A child learning to use utensils doesn't need a lot of food, they need help getting the food on their utensil!
Atlanta, GA (PRWEB) February 03, 2016
Three years ago, Jessica and Doug Gonterman set out to help their son who was struggling to learn the spoon. They ended up co-developing the NumNum® GOOtensil™, an innovative pre-spoon for early self-feeding that requires no scooping or balancing, making it easier to use than a spoon. Today, the Atlanta entrepreneurs announced that they are introducing a second product via Kickstarter that's going to help kids all over again. They call it the Beginner Bowl.
"As parents ourselves, we are aware of many of the pain points experienced when raising children," Jessica explains. "But as we traveled from consumer show to consumer show promoting our first product, we learned about the experiences, frustrations, and needs of other parents. The NumNum Beginner Bowl is the direct result of some of those conversations."
Most bowls feature vertical sidewalls and a flat bottom to maximize volume. But a child learning to use utensils doesn't require a large amount of food; they need help getting food onto their utensil! The Beginner Bowl helps them do just that. Built around a patent-pending conical interior shape, the sidewalls slope down to a small pooling area that's approximately the size of a toddler's spoon. These walls guide food AND the child's utensil to the same area, making self-feeding easier. In addition to the unique interior shape, the NumNum bowl rests on a broad, non-slip base to prevent sliding and tipping.
The couple's first product is now sold in more than 400 outlets worldwide, including BuyBuyBaby and Nordstrom, and has won multiple industry awards. By all measures, it has done well. "But it is a $10 product. We would have to sell over 6,000 units to bring the Beginner Bowl to market – that's a lot of NumNums!" quips Doug. "That's why we're launching on Kickstarter, because we need help to turn this really cool prototype into a really cool bowl."
NumNum, LLC, is based out of Suwanee, GA. The funding campaign for the Beginner Bowl launched on Kickstarter.com Monday, February 1st and runs for 30 days.