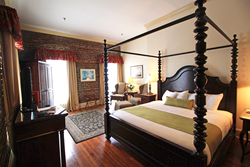 "Together we expect them to grow and improve the Inn."
Savannah, GA (PRWEB) February 03, 2016
River Street Inn, Savannah's only Historic Hotel of America, has announced the appointment of Glenn Anderson as the new General Manager and Marianne Greer as the new Director of Sales and Marketing.
"I am very glad the Inn was able to attract someone with Glenn's vast knowledge as a hotel operator. This hire is even stronger with the addition of Marianne Greer as the director of sales," said retired General Manager Jack Brussert. "Together we expect them to grow and improve the Inn."
Drawing on more than 20 years of experience in the hotel industry in Savannah, including 12 years as the general manager and regional operations director of HLC Inc., working with Oglethorpe Inn, East Bay Inn, and the Olde Harbour Inn, as former general manager of the Mulberry Inn & the opening team of the Ellis Square Inn, Anderson is now responsible for all operations at the historic property.
He is joined by the new Director of Sales and Marketing, Marianne Greer, who will now manage the marketing and sales departments. Greer is proud to work at River Street Inn, developing and implementing new marketing plans, managing hotel communications and working to increase sales after spending years working at luxury hotels in Atlanta, Florida, Alabama and Tennessee before she fell in love with Savannah in 2013.
"Being able to work in a 200-year-old converted cotton warehouse on the river surrounded by history is the epitome of why I moved to Savannah," said Greer.
For any press, spokesperson or other information requests, please contact:
Marianne Greer at the River Street Inn, (912) 790-6400 or mgreer(at)riverstreetinn.com.
About River Street Inn
Located in the heart of the Historic District of Savannah, the River Street Inn is an intimate historic hotel that overlooks the Savannah River and preserves the charm of the past with the amenities and conveniences of the present. Their dedication to historic preservation is apparent all throughout the hotel, where brick and recycled ballast stone meet, revealing its origins as a cotton warehouse in 1817. Antique dressers, desks chairs and décor charms guests as they enjoy their plush four-poster beds and private balconies. With 86 rooms, a library, fitness center, tavern, four meeting spaces and access to two River Street restaurants, the River Street Inn is not just a lovely place to stay, but centrally located, with museums, antiques shops, river cruises and restaurants just a short stroll away.