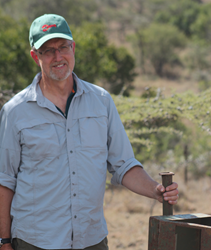 "I was hooked," Kania said. "It was one of those strange things where I didn't know Earthwatch existed, but I had been looking for it my whole life."
Boston, MA (PRWEB) February 03, 2016
Earthwatch Institute announced today that Scott Kania has been named its new Chief Executive Officer.
Kania, 63, has been the organization's Chief Operating Officer since 2014. He came to Earthwatch following a 35-year senior operations career in the financial services industry--most recently at HSBC where he served as Senior Vice President in New York and London.
"Scott has streamlined and strengthened Earthwatch since his first day on the job, and he was a natural choice for the next CEO," said Amy Ruth Borun, Chair of the Board of Directors. "A proven leader in change management and operations, Scott also walks the talk. His passion for the Earthwatch mission is obvious and palpable."
Kania's been on three Earthwatch expeditions so far, most recently bringing one of his daughters to track wildlife in Kenya. He was first introduced to Earthwatch when he participated in the Sustainability Leadership Program in London, a four-day Earthwatch program supported by HSBC designed to promote a deep understanding of sustainability as a core strategic and operational business issue and opportunity.
"I was hooked," Kania said. "It was one of those strange things where I didn't know Earthwatch existed, but I had been looking for it my whole life."
Kania said his focus areas this year include continuing to strengthen Earthwatch's portfolio of outcome-driven conservation science expeditions, launching new strategic approaches to Earthwatch's longstanding teacher and student fellowship programs, and expanding its corporate partnership program.
"We are experiencing an alarming and accelerating rate of global change across the planet, and the need to involve citizens representing all sectors of society in solving these challenges has never been greater," Kania said.
Kania replaces Lawrence Mason, who announced his plans to step down as CEO last fall. Kania holds a Bachelor of Science degree in Natural Resource Conservation and throughout his career has remained active in conservation, particularly in Connecticut: as a Trustee of The Rivers Alliance of Connecticut; a member of the Conservation Commission in Canton; exploring the trails of the Canton-based Roaring Brook Nature Center with his family; and more.
Learn more in the Q&A conducted for Earthwatch blog.