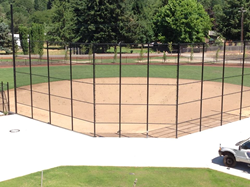 Kalama, Washington (PRWEB) February 02, 2016
The Port of Kalama board of commissioners has awarded a contract for the damage assessment, clean-up and repairs at Haydu Park. The 'time and materials contract' was awarded to Tapani, Inc., the same company contracted to build out Haydu, for a not-to-exceed $350,000. Work at the park and on the fields begins immediately and progress will be dependent on weather.
According to Port officials, Port maintenance crews have been working to clean up roads, sidewalks and buildings from the moment the water began receding. Tapani's work will focus on restoring the fields, fencing, and storm water and irrigation systems.
"Just as Mother Nature impacted business at the Port in December with high winds, rain and flooding, the repairs and clean-up at Haydu will be dependent on the weather and the sogginess of the fields," says Mark Wilson, executive director, Port of Kalama. "We are eager to complete the damage assessment and to get the park reopened to the general public as soon as we can."
General business activity at the Port will not be interrupted during this time.
About Port of Kalama – Where rail and water meet:
The Port of Kalama is located in Southwest Washington on the Columbia River and immediately off of Interstate Highway 5. The port exists to induce capital investment in an environmentally responsible manner to create jobs and to enhance public recreational opportunities. Port of Kalama's industrial area includes five miles of riverfront property adjacent to the 43' federally-maintained deep draft navigation channel of the Columbia River. The Port is served by the Burlington Northern/Santa Fe and Union Pacific railroads. There are over 30 businesses located at the Port of Kalama, employing over 850 people. Port of Kalama offers all the superior facilities businesses need to thrive, and an unsurpassed quality of life. The port offers shovel ready sites, a new Industrial Park, state of the art Marine Terminals and transportation accessibility to rail and highway all just a 30 minute drive to the Portland International Airport. Port of Kalama also offers high-bandwidth communications, with dual access fiber-optic service to Seattle and Portland. Properties currently available at the port for businesses wishing to expand and thrive: Visit http://portofkalama.com/available-properties/.
Contact: Liz Newman, marketing manager, Port of Kalama, 360-673-2379
or Claudia Johnson, PR, 503-799-2220.