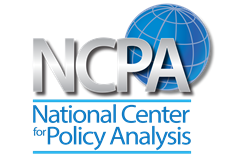 This study is the first conceptually appropriate and empirically accurate analysis of U.S. inequality and its mitigation via government policies.
(PRWEB) February 02, 2016
There has been much debate over whether the rich pay their "fair share" under the current U.S. tax system. But a new study, funded in part by the National Center for Policy Analysis, found that the current tax code is highly progressive — those who earn and have more pay a far greater share — when measured in terms of the lifetime tax burden for U.S. households. Also, spending among different resource groups is much more equally distributed than wealth, according to the study.
The study was authored by economist Laurence Kotlikoff of Boston University, Alan Auerbach of the University of California-Berkley and Daryl Koehler of Economic Security Planning, Inc.
The reduction in spending inequality is due to two things – poorer households receiving much more in benefit programs (such as food stamps, Temporary Assistance for Needy Families, Medicaid) than they pay in taxes, and richer households paying much more in taxes than they receive in benefits.
According to Professor Kotlikoff, "This study is, arguably, the first conceptually appropriate and empirically accurate analysis of U.S. inequality and its mitigation via government policies. The study shows that the U.S. fiscal system is highly progressive and, as a result, true economic inequality, as measured by remaining lifetime spending power, is far smaller than commonly believed. This does not mean the remaining inequality is either small or benign or that it should not be further reduced. That's a matter for the public and Congress to decide. But it's important to get the facts right. One other major fact that this study presents is that in taking from some and giving to others, our fiscal system with its close to 40 major uncoordinated fiscal programs, is leaving far too many people, be they rich or poor, with far too little incentive, at the margin, to work."
Among the study's results:

For the top 1 percent or earners ages 40 to 49, their remaining lifetime net tax rate (taxes paid minus government benefits received as a share of remaining lifetime resources) is 45 percent. For the bottom 20 percent in the same age group, their remaining lifetime net tax rate is -34 percent, meaning they will receive more in transfer benefits than they pay in taxes. Remaining lifetime resources is the sum of a household's net wealth plus its human wealth (the present value of all its projected future labor earnings).
Those aged 70 to 79 in the top 1 percent of wealth have a remaining lifetime net tax rate of 26.8 percent. In contrast, those in the lowest 20 percent have a negative average remaining net tax rate of -695 percent!
However, the complicated system of separately designed taxes and benefits leads to median marginal net tax rates that are significantly high for different wealth levels. The net marginal tax rate is the rate paid on the last dollar of income earned minus government benefits. For example:
Among the poorest 20 percent of the 30 to 39 year olds, the average remaining lifetime net tax rate is –16.8 percent, whereas their median lifetime marginal net tax rate is 45 percent.
There is also enormous variation in net marginal tax rates across households with the same or similar wealth. For 50 to 59 year olds in the third 20 percent of earners, the median remaining lifetime net tax rate is 44.2 percent. But the minimum marginal rate is –5.3 percent, and the maximum rate is 262.3 percent.
Their findings indicate that, while U.S. spending is certainly unequal, it is far less unequal than one would presume from looking at wealth inequality across all age groups, let alone within one age group. Among 40 year olds, for example, the richest 1 percent account for 19 percent of their cohort's wealth, but only 9 percent of the cohort's total remaining lifetime spending.
The paper also strongly criticizes conventional income-based calculations of inequality and tax rates as well as mixing together the young, who have yet to pay most of their taxes, with the old, who have already paid most of their taxes. This is standard practice in Washington by all government agencies as well as leading think tanks, like the Tax Policy Center. This new study shows that conventional analysis is systematically misrepresenting the degree of U.S. inequality, fiscal progressivity, and work disincentives.
U.S. Inequality, Fiscal Progressivity, and Work Disincentives: An Intragenerational Accounting: http://goo.gl/pA1nEj
The National Center for Policy Analysis Tax Analysis Center analyzes tax and entitlement systems and reform proposals using computer models developed by economists at Boston University, the Beacon Hill Institute at Suffolk University and the Private Enterprise Research Center at Texas A&M University.
The NCPA is a 501(c)(3) nonprofit, nonpartisan public policy research organization headquartered in Dallas with offices in Washington, D.C. The NCPA depends solely on the contributions of individuals, corporations and foundations that advocate private sector solutions to public policy problems. All contributions are tax-deductible.