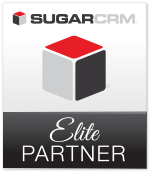 To be recognized as an Elite partner in this ecosystem demonstrates that our approach of building industry-specific, platform-based solutions and services are working.
Chandler, Arizona (PRWEB) February 08, 2016
Levementum, a leading global provider of CRM and Digital services, today announced it has achieved Elite status, the highest tier in the SugarCRM channel partner program. As a value-added reseller of the SugarCRM platform, Levementum has demonstrated continuous sales growth and advancement within Sugar's Partner Program.
"We are thrilled to once again be recognized by SugarCRM as an elite performer and receive the highest honor awarded to SugarCRM's channel partners," says Chris Spangler, Strategic Account Director – SugarCRM Practice, Levementum. "The synergies between SugarCRM and Levementum are undeniable and have resulted in continuous growth, mutual success and strong partnership."
As a leading service provider on many of SugarCRM largest transformational projects, Levementum understands how to help customers rapidly achieve measurable business value from CRM technology and has proven its worth in projects across all industries—delivering customer success in terms of operations impact, delivery quality and business value.
"We are focused on delivering the benefits of SugarCRM to our clients," said Doug Guilbeau , CEO, Levementum. "To be recognized as an elite partner in this ecosystem demonstrates that our approach of building industry-specific, platform-based solutions and services are working. We are helping clients use SugarCRM to improve sales and service operations and identify new revenue opportunities. We brought the best talent into our global SugarCRM practice and are committed to innovating in the CRM space. "
SugarCRM Elite Partners have attained the highest level of recognition in the company's channel partner program by building large-scale, growing businesses that provide consulting, implementation, integration, training and development services for Sugar; meeting or exceeding standards for technical proficiency and professional certification in Sugar products; and demonstrating consistent success implementing Sugar in hosted, on-premises, and private cloud environments.
"Our partners are vital to the achievement of our vision of building extraordinary customer relationships," said Clint Oram, SugarCRM co-founder and chief technology officer. "Their industry-leading expertise in CRM solutions combined with Sugar yield SugarCRM solutions and implementations that transform businesses around the world. We are honored to have Levementum be part of our top echelon of channel partners in 2016."
SugarCRM has built a unique channel program of CRM experts with more than 230 channel partners across 31 countries meeting the diverse CRM needs of enterprise organizations.
About Levementum
Levementum is an experienced CRM and Digital solutions partner bringing best-in-class skilled professionals along with business acumen, deep industry expertise, and customer relationship management leadership to clients that have chosen cloud-computing solutions. Levementum focuses on meaningful business outcomes and brings a lifecycle of solutions from strategy and architecture, agile execution to elastic operations. More information about the firm, its partners and services can be found on their site http://www.levementum.com or follow @Levementum
About SugarCRM
SugarCRM enables businesses to create extraordinary customer relationships with the most innovative, flexible and affordable customer relationship management (CRM) solution on the market. Unlike traditional CRM solutions that focus primarily on management and reporting, Sugar empowers the individual, coordinating the actions of customer-facing employees and equipping them with the right information at the right time to transform the customer experience. Based in Silicon Valley, SugarCRM is backed by Goldman Sachs, Draper Fisher Jurvetson, NEA and Walden International. More than 1.5 million individuals in over 120 countries rely on SugarCRM. To learn more visit SugarCRM or follow @SugarCRM.
NOTE: SugarCRM and the SugarCRM logo are registered trademarks of SugarCRM Inc. Third-party trademarks mentioned are the property of their respective owners.
Media Contact:
Becky Quinlanes
BOCA Communications
(916) 508-8050
becky(at)bocacommunications(dot)com