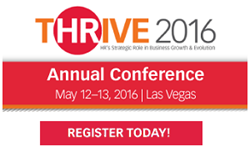 (PRWEB) February 04, 2016
BLR®—Business & Legal Resources, the leading provider of employment, safety, and environmental compliance solutions, is pleased to present the THRIVE 2016 Annual Conference, an experience specifically crafted to help proactive HR professionals maximize their strategic value and secure their seat at the leadership table.
THRIVE 2016 will be held May 12 and 13 in Las Vegas, NV, at Bally's Hotel and Casino.
Attendees will benefit from interacting with their HR peers and industry experts, while they discuss key challenges and discover best practices for developing powerful action plans within their organization.
THRIVE 2016 will feature specially crafted sessions on:

Performance management
Compensation strategies
Talent management
Employee engagement
Strategic HR
Millennial talent
And more!
Lynda Silsbee, CPT, SPHR, of Performance Dimensions Group and Alliance for Leadership Acceleration is one member of the expert faculty presenting at the conference. "During my intensive workshop on organization design, I will reveal strategic building blocks that you, as the Architects of High Performance, can use to engineer the kind of alignment that improves innovation and drives success," she previews. "I look forward to a great event where we will share professional experiences and learn together."
Among the speakers at this leadership conference are Lori Kleiman, SPHR, SHRM-SCP, and CEO of HR Topics; Diane Breeding, PHR, SHRM-CP, HR manager of Edwards Moving & Rigging; Roberto Coppola, global director of market research for YWS Design & Architecture; Michael D. Haberman, SPHR, co-founder and senior HR consultant for Omega HR Solutions; Matt Monge, expert on leadership, culture, and the future of work; former Wynn Resorts CHRO Arte Nathan; Colleen M. Niese, SPHR, CPP, of the Marlyn Group, LLC; Sam Reeve, head of consulting services for Performensation; Mark Rinker, VP of sales and business development for NetSpend; B. Lynn Ware, PhD, president of Integral Talent Systems, Inc.; David Wudyka, SPHR, MBA, BSIE, managing principal and founder of Westminster Associates; and Trisha Zulic, SHRM-SCP, SPHR, regional director of HR for Efficient Edge.
For more information, please visit thrivelive.blr.com.
About BLR
BLR®—Business & Legal Resources helps U.S. businesses simplify compliance with state and federal legal requirements and helps them become more successful. They do this by offering authoritative content and practical, easy-to-use tools. Through their expert in-house editors and exclusive attorney network, they provide the most comprehensive, reliable, state-specific information available—and do it in all 50 states. Their award-winning information products—including training programs, events, Web portals, reports, and subscription services—give businesses of all sizes and industries the best tools available at affordable prices. Connect with the organization at https://www.linkedin.com/groups/2174166/profile.