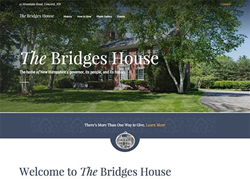 "Through pictures, prose, and design, Danconia's creative work captures the residence of New Hampshire's governor perfectly." - New Hampshire's First Gentleman Tom Hassan
Concord, New Hampshire (PRWEB) February 04, 2016
Danconia Media, a New Hampshire based web design and digital marketing firm, is excited to announce the launch of their latest non-profit project: a brand new website for The Bridges House—both a historical home and official residence of all NH sitting governors. The Bridges House also serves as the setting for many official state functions held by the Governor.
New Hampshire's First Gentleman Tom Hassan says that, "Through pictures, prose, and design, Danconia's creative work captures the residence of New Hampshire's governor perfectly—a place where Granite Staters can relive the past, discover history, and experience New Hampshire's rich cultural heritage."
The new website will assist in furthering educational efforts—teaching students and citizens about this wonderful piece of local history. The fresh design also makes it easier for The Bridges House to connect and engage with donors, ensuring that this historical property is an asset for the people of New Hampshire.
With increased online functionality, the public will be encouraged to visit this historic home and learn more about the political past and present of New Hampshire—a state that's primary is so important to our presidential election process. The Bridges House is listed on both the New Hampshire and National Register Of Historic Places.
"It was clear through their impressive work that the Danconia team was helpful, driven, and committed to creating a site that promotes a piece of NH history. The Friends of Bridges House Board looks forward to our continued connection with such a talented group of web designers," says Tom Hassan.
For more information, contact Rebecca Blanchette at (603) 529-8175 or rblanchette(at)danconia.com.
Danconia Media is a full-service web design and marketing firm that takes a unique approach to both online and traditional campaigns. Specialties include web development, content development, search engine optimization, Internet marketing, branding, trade show design, and more. Find us online at danconia.com or call us at (603) 529-8175.
###